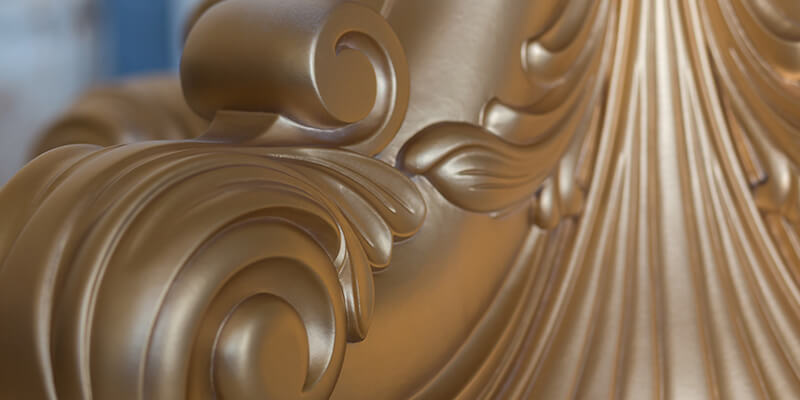 As human beings, we have a habit of always wanting the very best items available, but for the lowest possible price! However, in most circumstances, a lot of us have to admire from a distance as so many of these expensive items tend to cost a lot of money.
However, there are many things that you could be doing right now (yes, right now!) to make your items more appealing and appear more expensive.
The use of coloured and textured aerosol spray is a cheap way of transforming everyday household items and older pieces of furniture.
For example; the use of gold coloured spray paint to items such as doorknobs, picture frames, key rings and even plant life helps make them instantly look more expensive.
What are the best aerosol spray colours to make items look expensive?
Let's take a look at some of the other everyday items that you can update with a simple application of custom colour spray paint.
1.Lights
The lighting in your home can often become outdated especially as it starts to collect dust and accumulate dirt over the years. There are many different ways you can instantly spruce up your lighting, one of the best ways to do so is by adding a touch of vibrancy. If you are going for a colour scheme why not use it in the lighting. If you would like more information on how to spray paint your lighting or light fixtures we recommend giving The Country Chic Cottage a read.
2. Doorknobs
These aren't items that you would associate with gold and extravagant designs, but with a single coating, they transform. Traditional doorknobs tend to be a rather dull dark shade, usually black, brown or metallic. You can "wow" your visitors by spraying your doorknobs using this free guide.
3. Plant Pots
Tired of traditional terracotta plant pots? We don't blame you.
You have the power to revitalise your pots with a simple coating of golden or coloured spray paint. Spraying a plant pot gold may seem a little silly, but it can do wonders for both your home and your garden. If you are looking to add a little bit of colour to your home why not do it via the plant pots. We also think why stop there; you can also spray paint a range of garden furniture.
4. Plant Life
Beautifully designed and spray painted plants are becoming ever more popular in garden centres. The most popular of these are actually fruit shaped items and conifers. There are, however, many other plants available, which are much smaller that you can keep in your home or at your office desk. The most frequently used coloured aerosols in these scenarios include gold and silvers.
If you are looking for a centrepiece to go in the middle of the table why not spray plastic fruit with a touch of metallic paint to give it that more luxury feels for a fraction of the price.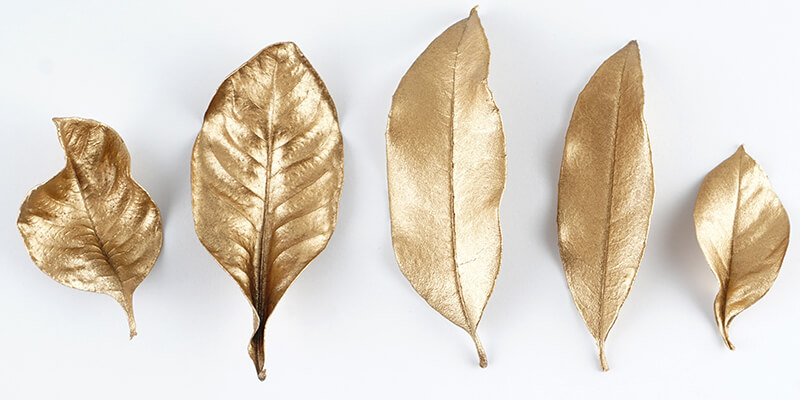 5. Household Appliances
Getting fed up of looking at the same old boring white fridge in your kitchen? Why not give it a little colour?!
Tape up the areas you do not want to be painted and use a reliable coloured aerosol to reinvent the most valuable item in your kitchen!
6. Wellies
Here in the UK, we love a good ole Wellington boot (we have to really, with the amount of rain we get!)
Wellies aren't the most glamorous of fashion items, but you can create your own designs and create stencils to spray over and create custom boots! It is also a great idea to do so if you're wanting to create a more unique and individual festival outfit. We can't always determine whether the weather is going to be nice or not at a festival so make sure you're prepared with your fashion statement wellies.
7. Storage Units
Shelving units tend to come in a pretty basic wooden finish. Although they look good, they can appear a little repetitive.
Like we mentioned earlier in our article, golden sprays don't have to be used every time. The use of other coloured sprays can modernise your home or office too. Whites are a perfect colour to use for shelving especially if you do not want it to be obvious giving it a more chic look. Alternatively, if you are hanging shelves in a child's room, you can use a range of colours to add a touch of vibrancy.
8. Fabrics
Have you ever had an old piece of furniture or upholstery that was in good condition but just lacked a little bit of colour?
Save yourselves a considerable amount of money and spray paint the material, with coloured fabric spray paints. Although it may seem a little tricky, the project itself can be completed rather quickly.
Just look at this transformation!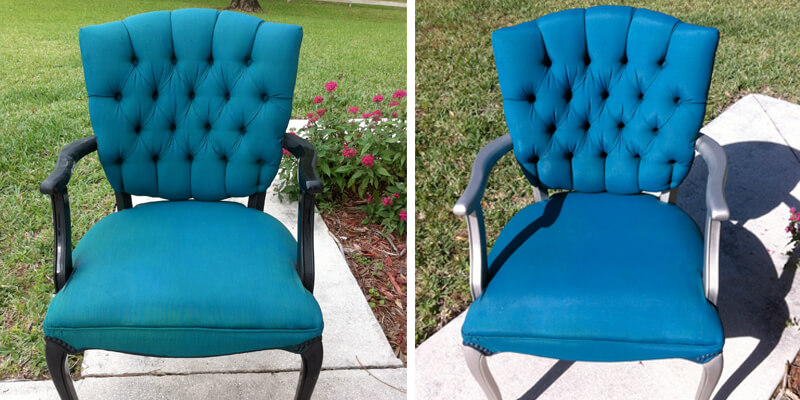 9. Decorative Furniture
Decorative pieces of furniture are usually used simply as decoration and not for practical purposes. These items tend to be coffee tables, lamps, small ornaments, bookends and even vintage items such as traditional telephones and typewriters.
If you are fortunate enough to get hold of one of these items relatively cheaply and it is in need of a little TLC, you can bring it back to life and update it with a quality spray paint coating. Make sure you handle them with care as this may be a valuable item.
10. Curtain Railings
Now curtain railings are not the most eye-catching of items. Usually dull in colour and appearance, make sure that they become one of the most recognised pieces of furniture in your home.
Textured spray paints can turn them into something special instead of the traditional dull appearance that associates itself with them.
Spray painting
Spray painting is actually fairly easy; it doesn't need to be a mission. Make sure that when you do decide to spray paint you are always wearing the right safety clothing and all spray painting is done in a well-ventilated area. One of the best places for you to use a spray paint is out in the garden. However, you will want to ensure that the wind is not strong as you do not want any paint particles settling anywhere else other than what you are trying to paint.