Using spray paint is undoubtedly one of the best ways to achieve quick yet successful caravan renovations. Whether you want to give your caravan exterior some well deserved TLC or completely change the colour scheme of the interior, spray paint will give you the results you desire.
Your guide to creative caravan renovations
You will be surprised at how easily you can transform your caravan with a little creativity and some spray paint. As opposed to standard paint, spray paint can be easily applied to a variety of surfaces, such as metal and plastic; a useful attribute if you are hoping to renovate both the interior and exterior of your mobile home. Spray paint also offers exceptionally even coverage, is considerably more efficient than using paint and a roller/brush and dries much faster. All of these features are especially useful when renovating a caravan as decorating a small space can be quite challenging.
It is important to understand that using high-quality spray paint is crucial for a successful renovation project. RAL spray paints have an excellent reputation as they are the most popular system contained within Central European Colour Standard system. This particular range of spray paints is renowned for its extensive colour range, consisting of over 200 different colour tones and shades! Similarly, British Standard Aerosols are also highly desirable and are frequently used for identification, coding and other special purposes for building and decorative paints.
Ultimately, if you want to make the most out of your caravan renovation, extensive planning is key. Finding the right spray paint, choosing your desired colour or colours beforehand and knowing the exact areas you wish to paint will save you time and ensure the whole process runs smoothly.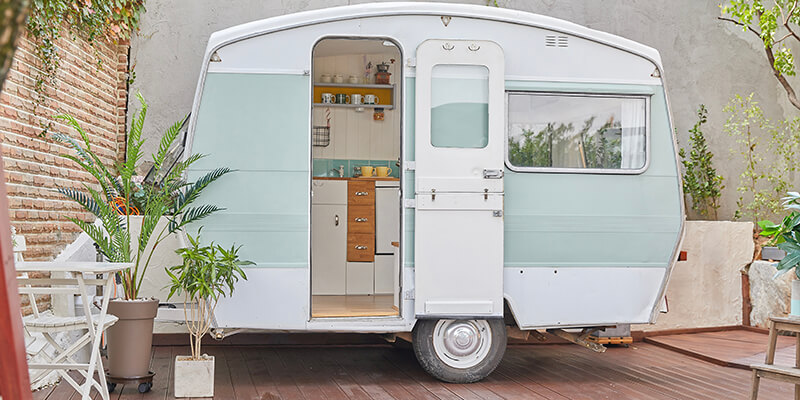 Bedroom
Your bedroom is a great place to showcase your creativity and create a space which reflects your personality. The colours you use to decorate your bedroom will determine how well you sleep and how you feel on a daily basis, so it is important to choose wisely. For example, the colour red is quite intense and has the ability to raise the energy level in a room. For this reason, it may not be the most suitable colour to use in a bedroom as it could make it more difficult to sleep. Instead, you should opt for a blue as it is generally regarded as a relaxing and serene colour, perfect for promoting sleep. Similarly, green is also recommended for the bedroom as it is considered to be cheerful and refreshing, but also warm and calming. If you want to find out more about the psychology of colour, Freshome has a useful article which reiterates the importance of colour choice when decorating and what colours you should use in your home.
The beauty of a bedroom is that it is very versatile and can be easily adapted to compliment drastic colour changes. For example, if you want to change the colour of the walls and ceiling of your living room, you need to consider whether it compliments the furniture because if it doesn't, it is quite costly to replace. However, if you want to introduce a new colour scheme for your bedroom, you can easily buy affordable duvet set covers and curtains to match and give the room a unified look.
If you have ever painted a bedroom before, you will know it can be extremely messy and time-consuming, especially if multiple coats are needed. Luckily, when using spray paint, the mess is minimised, and it is unlikely you will need to have several layers of colour in order to achieve even coverage.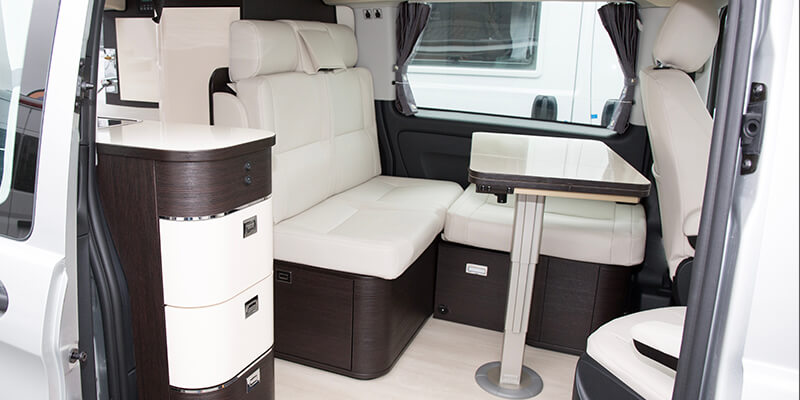 Kitchen cupboards
If you think the kitchen area of your caravan is looking a little outdated, or you simply want to change its overall look, an easy solution is to spray paint the cupboards. Just like in a house, it is likely that storage space takes up the majority of your kitchen, so you want to ensure every aspect looks aesthetically pleasing. The following steps will help you effectively prepare your cupboards for the best results:
Remove all knobs or handles. This is simple and the only tool you should need it a screwdriver.
Wash your drawers/cabinets with a strong detergent solution. You should do this in order to remove any grease and create a smooth canvas. Remember to wipe off any soap residue when you have finished.
Once dry, sand the cabinets with fine paper.
For the ultimate even finish, you should then apply a primer.
Once you have prepared your cupboards, it is now time to spray paint them. As a result of sanding and priming the surfaces, you should only need to apply one coat of spray paint. However, if it is not fully covered, an additional coat should be applied.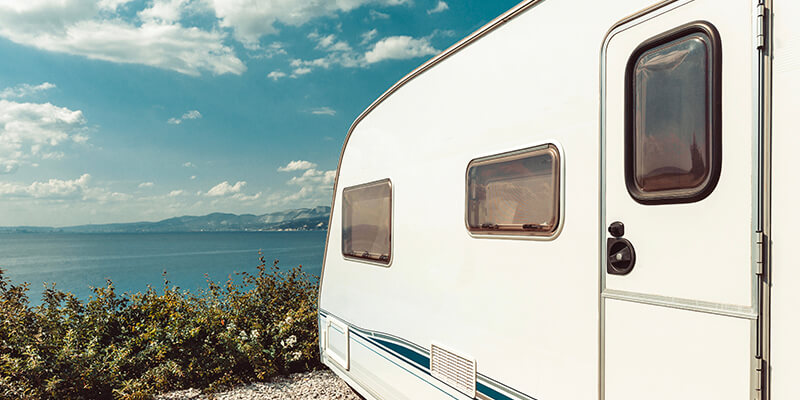 Bathroom fixtures
A great way to upgrade your caravan bathroom is to spray paint its fixtures, such as the tap or shower head. As previously mentioned, spray paint is suitable to use on a variety of surfaces, making it the ideal product to use for your bathroom appliances. Just like when spray painting your kitchen cupboards, you should prepare the surfaces you intend to paint using sandpaper. It is also important to place masking tape around the fixtures and cover your bath, shower, sink etc. with dust sheets to minimise mess.
If you are undecided as to what colour you want your bathroom fixtures to be, you should consider a matte black. Black and white is, of course, a timeless colour combination, but the added matte element will make your bathroom look ultra modern and glamorous. If monochrome is not your style, you could opt for a copper colour for a unique and sophisticated look.
Efforltessly upgrade your caravan
Whether you are an experienced decorator or an amateur hoping to transform their mobile home with ease, we hope our ideas have inspired you, and you are fully informed of spray painting benefits. Once your renovation project is complete, you can put your feet up and enjoy relaxing in your new and improved caravan.