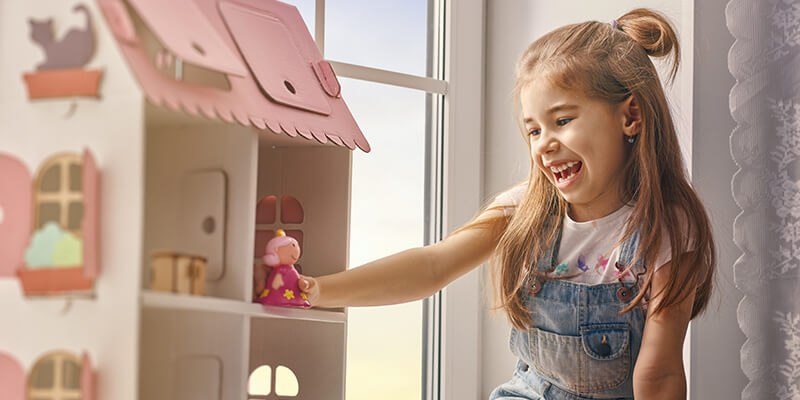 One of the best parts about having children is watching them play with their toys. For young girls and boys, a dollhouse is something they will play with for years, so why not make it unique to them. Here we tell you all about how to paint your own dolls house and dollhouse furniture.
Why paint dollhouse furniture?
One of the main reasons many parents by their children a dolls house is to let their imagination run wild, children are so innocent at a young age, and we should cherish that. So if you have a plain wooden dolls house why not introduce vibrant colours to make your children interact more with each piece of furniture. Alternatively, if you already have a dolls house, you can always revamp it to best suit your child.
Plan your work
First things first, you should always plan ahead, there is nothing worse than painting your dolls house and it not going the way you wanted it to or it just doesn't look right. If you are unsure of how you want your dolls house to look there are a number of places you can find inspiration such as Pinterest and real houses you see every day.
If you do not plan ahead, you may find that changing your mind half way through can cause you a significant amount of additional work. If you want to make your dolls house look as realistic as possible, we highly recommend taking time and care into your decoration, however, if you are going for a more fun and fresh feel why not get the kids involved and make it a family fun activity.
When do I decorate
If you have purchased a self-assembly dolls house, you will want to paint each part before putting it together. We recommend doing this as otherwise, it can be difficult to get into all the edges and parts of the dolls house. If you want to part assemble the dolls house we recommend using masking tape as it is less likely to leave sticky glue behind but also shows you where the hinges may be before you paint it.
There are a few things you are going to want to avoid when it comes to painting your dolls house; first things first do not paint the grooves. If you have purchased a well-assembled kit, it will be made to have tight hinges. So by painting the grooves, you may be affecting the way the doors work. If you find, you have in fact got Ral colour spray paints on the grooves simply apply a damp cloth and wipe away any excess paint.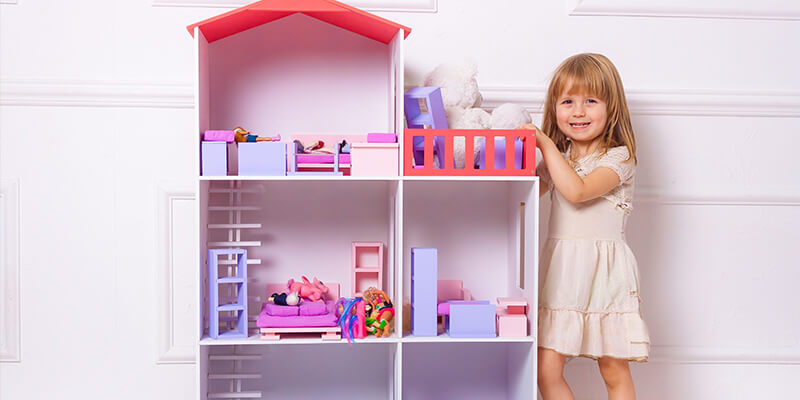 Painting
One of the most important things to remember when painting your dolls house is that the majority of the materials is going to be wood, so you need to make sure that you are purchasing the right spray paints and primers best suited to it. You may also have to take extra care as it can be a lot harder to remove any paint if it goes wrong, however, the best part about spray paints is you can spray over it, and it will still have the same finish.
Cleaning is a vital part of the painting process; you will want to make sure there is no way any dirt can stick to the paintwork when it is wet. If you have had to cut our pieces of wood to make certain aspects fit or there are shavings left all over your painting area make sure they are gone. If you have leftover dirt particles, it can leave a lumpy finish in the paintwork which over an extended period of time could cause further bubbling.
Before you paint always use a DC Paint Solutions primer spray paints as it gives the best finish. Be sure to spray the primer evenly across all sections you wish to spray paints; we usually recommend using a couple of coats of primer. Do not spray each coat simultaneously, leave each coat to dry before applying another.
When it comes to painting your dolls house, we highly recommend ensuring your painting each section in a well-ventilated area and are wearing specific safety gear. The last thing you want to do is inhale any vapours from the spray paints. Much like the primer always make sure each area is sprayed evenly and has thoroughly dried before applying another coat. If you do not let it dry before applying another coat once the top layer has dried the layers underneath remain damp which can cause bubbling, flaking and cracking.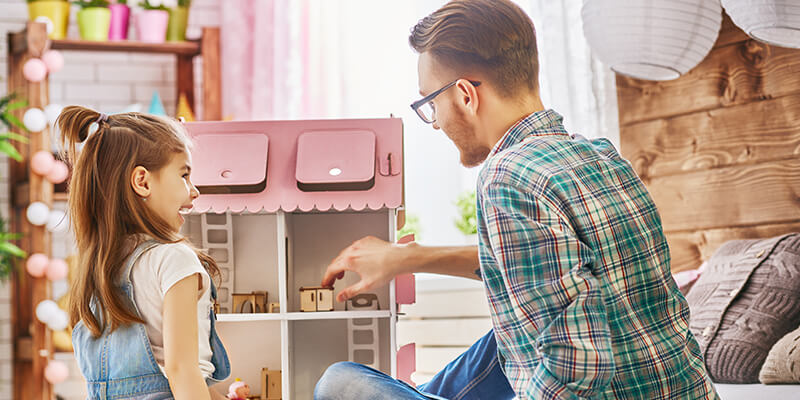 Roofing
If you are wanting to give your dolls house an authentic roof, there are a number of materials you can use. A whole host of roofing materials and finishes can be purchased from The Dolls House Emporium. To apply the roofing material we usually recommend using a PVA glue which is also safe for the kids to use. Alternatively, if your kids are going to be playing with the dolls house regularly, we recommend using wallpaper glue as it is a stronger adhesive and is less likely to peel away.
Most materials you purchase for the roof will already come with a specific colour on it but do not be afraid to spray paint it if you wish to change the colour.
Furniture
Furniture can be the tricky part of the painting process if you are looking to paint each piece of furniture one colour all over, then the best way to do this is by using spray paint. However, if you are looking to add decorations or a range of colours to one particular piece of furniture we recommend painting these by hand as they can be fairly fiddly. Always make sure they have been fully cleaned before you paint.
Family fun
If your dolls house been has handed down, it is going to be more valuable to your family than one that has just been purchased so paint it with great care. If you fancy getting the whole family involved make sure each painting process is done in a safe manner, ensure all of the those who are painting have the right safety gear and it is being done in a well-ventilated area.
We hope you enjoy painting your dolls houses and would love to see pictures, feel free to tag us in all your photos over on our facebook page!