Halloween is such a fun time of year; you can decorate your home in a number of ways. While it is all about kids having a fun spooky evening, you can get the whole family involved in the decorating process. Whether you are having a Halloween party or simply letting people come to your home for trick or treating, you will want to have some of the most unique decorations out there. Here we are going to run through a couple of cheap spray paint Halloween ideas.
Cheap Spray Paint Ideas
If you're someone who loves a bit of DIY, then you are going to love making a couple of these cheap spray paint Halloween ideas. Decorations do not have to cost you an arm and a leg, and some DIY decorations can last you a couple of years.
Boo Bottles
If you are someone who drinks a lot of water or has a couple of bottles around the house which do not get used you can make some really unique boo bottles for your guest when they come to stay during the Halloween period.
To get started you will first want to remove any of the stickers and glue from the bottle. You can typically do this by soaking the bottles in a warm soapy solution. You will then need to rinse off and make sure they are thoroughly dry before painting otherwise the paint may not adhere to the surface. You will want to paint the bottles using a white RAL colour spray paints, you can then either use a stencil for the ghosts face, or you can use a black marker, whichever may be easier for you. To give you boo bottles a touch of colour you could look at getting some colourful paper straws from Berties Direct.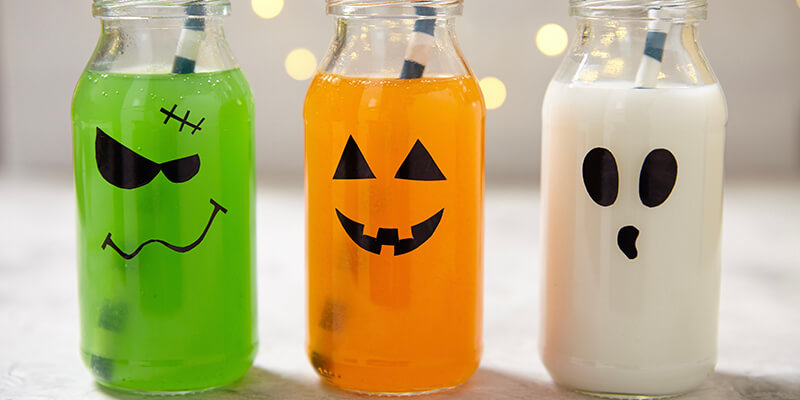 Forever Pumpkins
If you are looking to make some cute lanterns for the Halloween period which you wish to keep on display, then you can use jars and paint to create them. These can also be reused year after year. If you do not have jam jars lying around the house then you can look at getting them from Lakeland. All you need to do for this project is to cover the jars in a light coating of orange spray paint; you will then want to add a quirky pumpkin face design to the front of the jar using a black marker pen.
To light up the inside of your forever pumpkin, you can either use a small lantern candle or if you have young children around your home and want to mitigate the risk of a fire you can look at putting small lights inside the jars. You can pick small fairy lights which will fit into the jar from Light In The Box.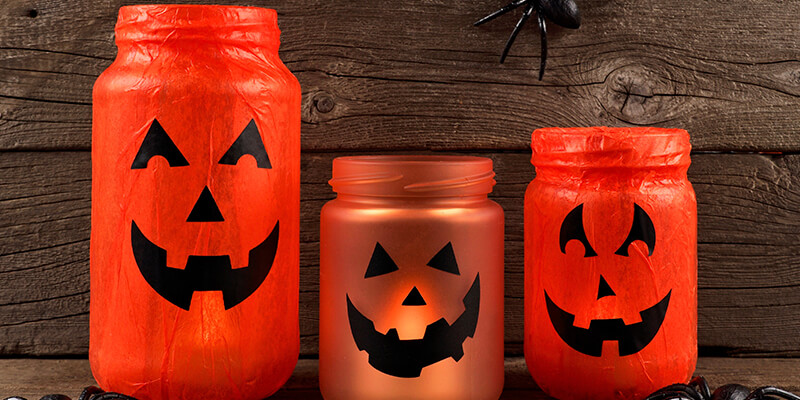 Spooky Wreath
If you want to keep your home looking stylish but still have the Halloween feel then you may want to look at making a spooky wreath which you can hang either inside your home or on the front door. Making a ghostly wreath is not a hard task, you can either completely start from scratch or purchase a wreath from your local craft store. To start from scratch, you may need to take the family on a nice long walk through the crips woodlands. You will need to collect a fair few branches to make sure your wreath is full. These will then need to be dried out if it has been a little damp outside you can leave these in a warm, dry area. You will then want to start by intertwining each of the twigs into a circular shape. To ensure this holds you can use a little garden wire.
To get started on the decoration there are a number of colours you can use to make your wreath look spooky, we love greys and blacks during the Halloween period, so if you want to give it that extra creepy vibe then you may want to spray it with a black matte spray paint. You can then make ghosts out of paper or card which can then be stuck to the wreath. The great thing about this Halloween decoration is it can also be used as a sweet holder. If you are giving any sweets away that are on a stick, for example, a lollipop, you can stick them within your wreath to give it a more decorative feel. To get the perfect Halloween sweets for your wreath, you should take a look at Treasure Island Sweets.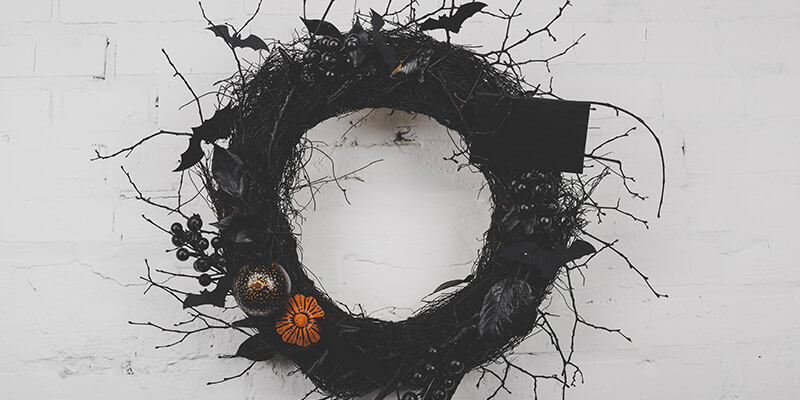 Boo Sweet Cans
If you are handing out sweets and candy, this Halloween then why not create sweet holders for your home or porch. As a fairly inexpensive and easy decoration option, Boo Sweet Cans are a great choice.
To start, all you will need is three cans that are no longer in use, much like the Boo Bottles, you will want to give them a good soak to ensure all paper packaging and glue has been thoroughly removed. To cover the cans you will want to look at spraying them with dark black spray paint. Coat the inside and the outside of the cans with spray paint, with a grease orange marker you will then want to draw on dots which will form the BOO on the cans. Left to dry, you can then feel these with a number of different sweets. The great thing about this type of decoration is you can make loads with a range of different letters on them.
Halloween Decorations
Halloween Decorations do not need to be expensive, a bit of DIY brings Halloween to life and can also bring the family together. The best part about many of these Halloween decorations is they can often be used year after year as party decorations or to simply have them in your home to get you into a spooky mood. If you create any of our decoration ideas, feel free to share them over on our Facebook page.