Spray painting is a great way to revamp items in the home that you are just not in love with anymore. Giving your home a fresh makeover can instantly improve your décor with a little spray paint. Here we discuss our spray paint ideas for in and around your home.
Top DIY spray paint ideas
There are many old items in your home that may be too costly to replace, so giving them a little TLC and love with some spray paint just might be your answer. You will want to look at purchasing a long lasting colour such as RAL colour aerosols to ensure your colour will not fade over time and will not scratch easily.
Kitchen
You might want to redo your kitchen but find that this actually can be relatively costly. By using a little spray paint you can instantly improve the look of your kitchen, take a look at your rubbish bin for instance. Is it a little battered and bruised? You could brighten it by adding a pop of colour and give it a retro feel to fit in with the rest of you kitchen interiors.
Kitchen chairs are also a brilliant item to spray, if you have children, you will find there are many reasons to why your chairs no longer look cute. You can quickly revamp these by spraying, bring some brightness to your kitchen and spray in bold colours to make them more of a statement piece.
Interior Doors
Sometimes it may be items in the home that need revamping you least expect. Spraying the doors can spruce up an old door that may be discolouring or simply no longer works with your interiors.
Additionally, another small item on the doors that you would be surprised make a big difference once sprayed is the door handles. Your handles may have been years old with scuffs and scratches all over; this is a great way to improve and renew them.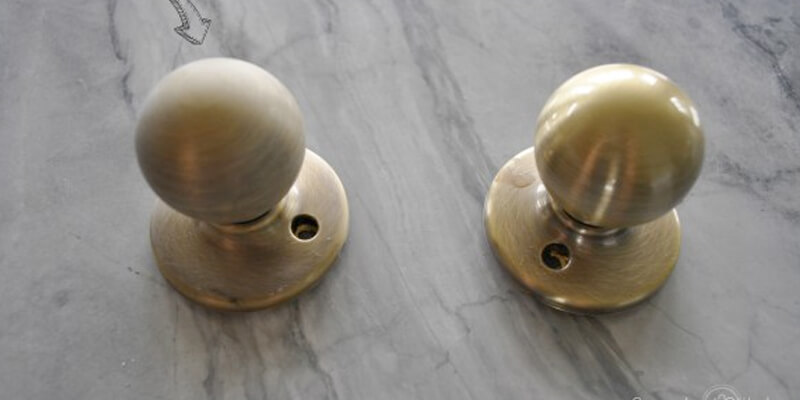 Photo credit to Remodelaholic
Dried or false plants
Experimenting with spray paint is a good way of introducing colour into a room. Take dried leaves or existing false flowers and spray with gold, place into a glass jar and you have the perfect ornaments.
If you don't have an existing vase why not revamp old wine bottles, you can add tape to create a stencil effect. Dipping in gold can make them look more upmarket and as though you purchased them that way.
Chest of draws
Chest of draws are one of those pieces you need in the bedroom to efficiently store away your personal belongings however they can become quickly outdated. You will find that over time you grow out of items you once loved, so revamping this large item can bring back some of your personal styles. The good thing about applying to wood is you can easily remove if you wish to re-spray again in the future.
Mirrors
Do you have old mirror lying around that you don't use anymore and were thinking of throwing out? Try a DIY project to transform this old item into a more aesthetically pleasing one. You can instantly attract compliments by adding a bit of colour with spray paint and highlight your room décor.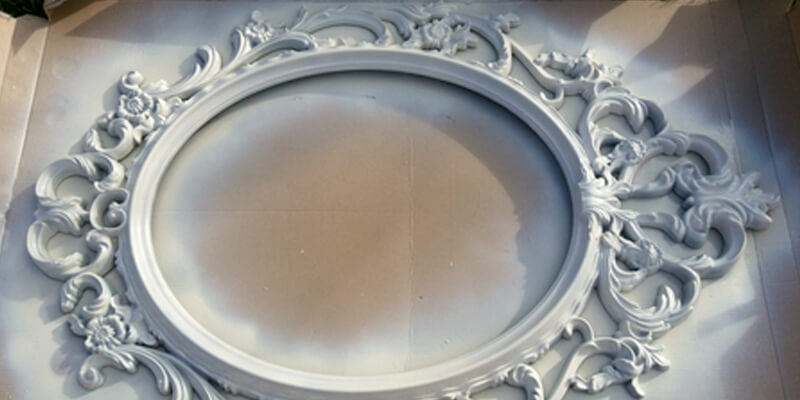 Photo credit to TypePad
Fireplace
If you have recently moved into your new home, you may have spent your budget on fitting the house and might not be able to remove and replace a fireplace. We suggest considering spraying to improve the look of your current fireplace. This might not be to change the colour, which we think would look quite funky, you could spray a similar colour to before.
Bedroom walls
Changing the walls in your children's bedrooms is a constant investment that you make as they grow up. A good way of decorating a bedroom short term is to spray paint the walls. At stencil warehouse, you can purchase a variety of pre-made stencils or the material to make your own.
This allows you to make your child's room unique; this is a great way to get your children involved in the decorating process. Allowing them to pick and choose what stencils they can use.
Decorations
We are now heading into winter so a neat idea to revamp your Christmas decorations is to spray them different colours. This is an excellent technique if you like to pick and choose different colours each year. It can also help you with selecting specific colour themes. Spraying baubles allows for a beautiful smooth finish and looks as though you have purchased them this way.
This is also another activity that you can involve the whole family, making individual Christmas decoration. As well as spraying why not purchase some paint pens from Cassart, once sprayed you can create niche designs and use more than one colour.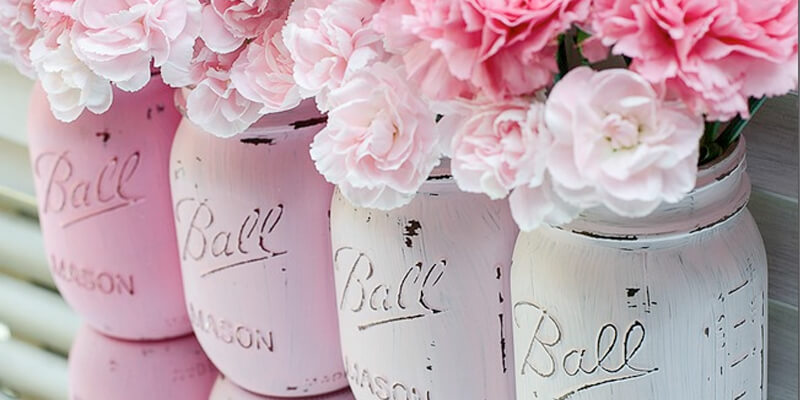 Photo credit to Mason Jar Crafts Love
Method
We do recommend that whilst its fun to spray paint your items you follow a specific method.
Ensure all furniture that is being sprayed is clean and free of any dust.
If spraying a wooden items sand down and whip any residue away
Always use a primer – this will help the paint stick to the item you are spraying a lot easier
When spraying ensure that you are using a smooth and slow spray to get the paint into all the cracks and pores of the item
Allow the paint to dry; we recommend that you apply two coats minimum to maximize the colour finish
Leave to dry for 24 hours, so no finger marks are left on the paintwork.
With all of the items listed above, you may be able to revamp and redecorate your home for less money than you initially thought. You might be surprised by just how much home interiors you can spray, we recommend before throwing anything away why not think about how you can potentially improve this item.
Revamping is a great way to get the family involved and introduce everyone's personal style. Christmas decorating is one that we think everyone will enjoy.
Finally, its key to follow our recommended method, as the last thing you want after putting in all the hard work is to find you've marked it in the spraying process or left finger marks in the paint.