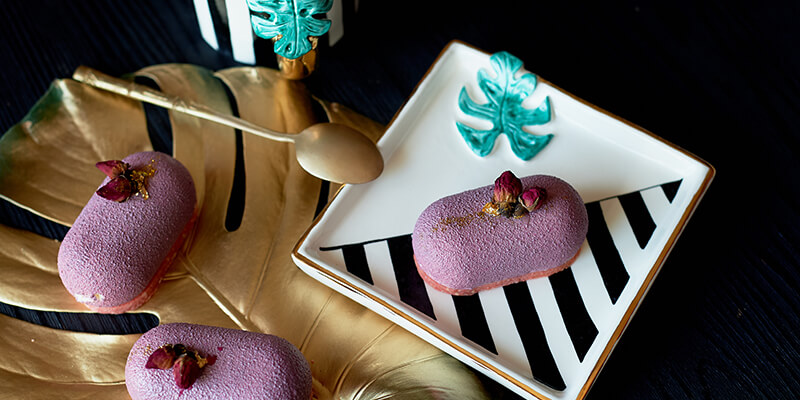 Who doesn't love a bit of gold spray paint! Whether you're thinking of updating old furniture or you want to glam up something you bought, spray paint is one of the best ways of doing so, it's not quick, but it is also super easy to grasp and doesn't take a vast amount of time to get the hang of it. When it comes to spray paint, you can decorate just about anything. So, carry on reading to hear all about our gold spray paint hacks.
Spray paint hacks
There are so many different household items you can spray to bring a little va-va-voom into your home. Gold items can set you back a few pennies, so rather than forking out for a whole new item why not spray something you already have, or find a cheaper option and give it a go.
Lighting
Golding lighting is a great way of bringing a touch of class and elegance into your home. Whether it is a wall light, desk lamp or ceiling light all you need to do is make sure that the golden colour you choose works with the rest of the interiors in your home.
Chest of draws
Scandinavian and contemporary style homes are all the rage right now with muted minimalistic tones. If you want to bring a touch of vibrancy into your room, a great way of doing so is by dressing up your chest of drawers. You can switch up a boring white, or grey dresser or chest of draws by adding a geometric design and golden handles. All you need is a little bit of masking tape and you can spray away.
Tables
Tables are either the centrepiece of the room, or they can be an attribute to a room, either way, there is a range of ways you can bring your once boring and old table back to life. Play with patterns and shapes to give your table something different. You can either spray paint the top with a design or alternatively if you quite like the topper, why not think about spray painting the legs, to give it a more sophisticated and expensive look. For gold table inspiration why not take a look at Pinterest.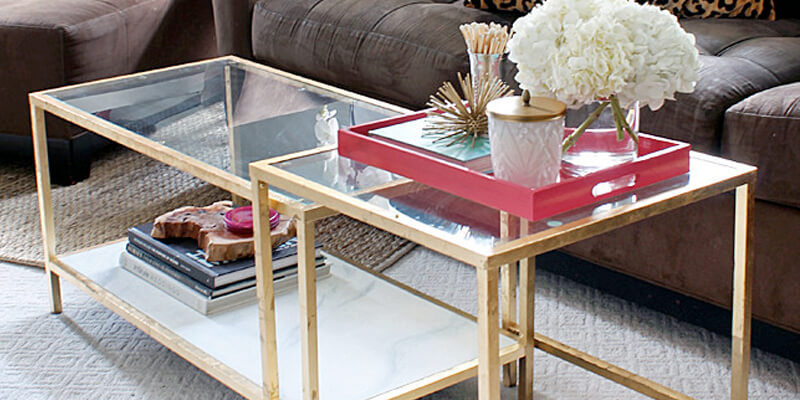 Photo Credit to Better Decorating Bibble
Shelves
If you have some shelving which is looking a little dull and uncared for, why not give it a little bit of a rusting feeling. Whether they are in your kitchen, bedroom or living space, add a touch of gold to the metal sections that hold the shelve up, and you cant go wrong! By adding a touch of gold, you have made a very inexpensive household item look as though you spend a fair few pounds on it.
Centre pieces
If you are having a dinner party or you simply want to find an item that looks lovely on your dining room table or living room space, why not think about spraying something you already have. Centrepieces do not always have to be expensive items for them to grab the attention of family and visitors.
We have recently found that spraying natural items with gold spray paint is a lovely way of making something look more elegant. We always recommend keeping centrepieces as simple as possible; they do not have to be over complicated to make an impact. Spray painting glasses as vases, leaves or even shells can make a huge statement in a room.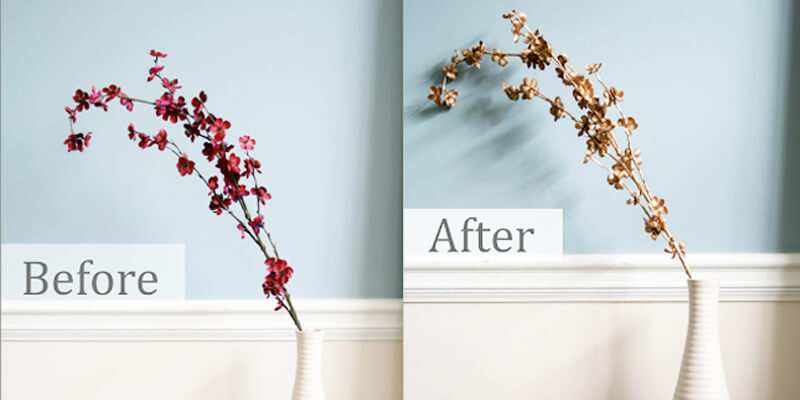 Photo Credit to The Blog Societies
Storage
Gold spray paint can transform so many different household objects. A great way to spice up storage jars is by spray painting toy animals gold and glueing them to the top of a mason jar. Mason jars are a great way of getting your kids to keep their nicknacks tidy such as hair bands and clips. You can also use them to keep all their craft materials neet and tidy. We always think if kids storage is aesthetically pleasing and fun, they are more likely to want to keep things tidy.
3D art
There are so many different ways you can create art with gold spray paint if you have a bare wall in your home that needs a little something extra, why not make 3D art with false natural items. Clustered plastic leaves spray painted gold in an unusual design, brings texture to your room that if purchased from a store could cost you a significant amount.
The fun part about creating this type of art is anyone can do it and almost anything can be sprayed with RAL colour aerosols. Take a look around your home and see if there are any household items you no longer want but think could work as art.
Personalised gifts
If you're struggling to think of what to give a friend or family member for their birthday, why not give them a personalised gift. It will cost you far less than buying them a gift they might not like, but it is also fun to make in the process.
Making a personalised gift is a great way of making an everyday item into something special, just by adding a touch of gold spray paint. If you have household items that are lying around collecting dust why not make them into a gift, take a vase for example, spray paint the entire vase then add some gold adhesive letters to make it more personal. You can also fill them with a gorgeous false flower arrangement so they can have their own centrepiece.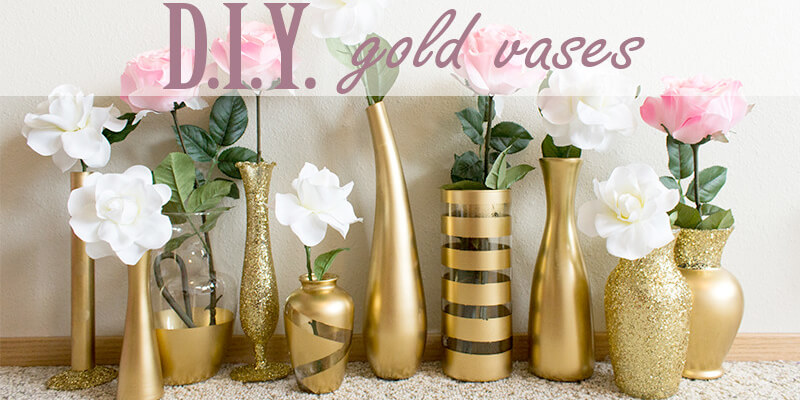 Photo Credit to Seattle Stylista
Gold spray paint
Gold spray paint is perfect if you are looking to add a touch of elegance and sophistication to items that are either looking tired and dull or simply just are not doing it for you anymore. There are so many household items you can spray paint if you're looking to get rid of an item, see if it looks good in gold, you might be able to give it a new lease of life.
We always say do not be afraid to use spray paint, at the end of the day if it doesn't look right you can always spray paint it back to its original colour, or to another one.