If you are looking to redecorate your home or are thinking of selling your home so could do with a revamp then you might be interested in what paint you can use. Some may be more cost-effective than others, and other colours may turn out better depending on the way they have been applied. Here we tell you the best paint to use in certain rooms in the house.
The best paint to use
Depending on the size of your home you might consider different decors as you will want ones that help make your room look bigger. You do not necessarily have to stick to the traditional whites and light colours. Most colours will work in any size home but it is about what you do with it and the accessories and lighting you pair with it.
Kitchen
There are so many colour schemes out there for you to choose from when it comes to your kitchen. Getting the tone and colour right for your kitchen design can be a little tricky, but there are a few colours which you can work within a number of ways.
Greys are one of the best colours for this; they work well with neutral colours as well so you can keep your kitchen looking crisp and clean. The great things about greys are they can be used on either your walls or your kitchen cabinets. If you are looking to paint the walls, we always recommend going for a water-based paint such as Farrow and Ball Lamp Room Gray or if you are looking to paint the cabinets we recommend looking at using a RAL colour aerosols to give you that even finish.
Alternatively, fresh whites or even navy has also been a great hit in the kitchen as it can often make a room look more sophisticated. Paired together the colours give your kitchen a dynamic finish, especially when a range of furnishings have a pop of colour.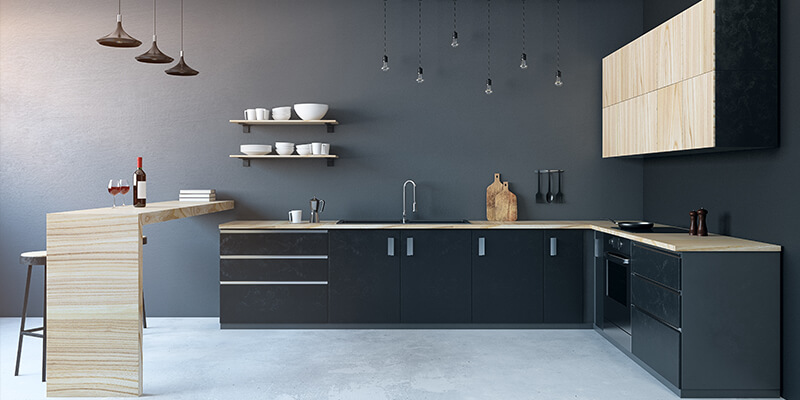 Bathroom
When it comes to your bathroom you will most likely want to keep it white, so it looks clean; however, there is so much more you can do with your bathroom. While you generally use it day to day for about 20 mins to shower and wash your teeth, on the weekends, it can often be a room you spend hours in pampering yourself.
Mettalics are a great place to start when it comes to the bathroom, they also look great with a deep tone on the walls such as Graham and Brown Damson. As they tend to reflect the natural light in the day, you don't need to worry too much about having a huge lighting fixture. A yellow light will provide enough lighting in the evening when it gets a little darker.
Dark and dramatic colours are very on trend when it comes to the bathroom, tone can have a significant impact on the mood. Grays and dark plums are great for making you feel cosy and cocooned.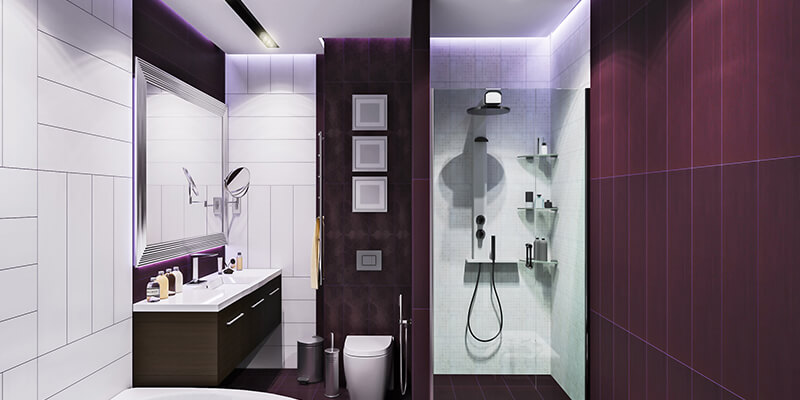 Bedroom
If your unique eye is normally drawn to bright colours in the bedroom, it can often lead to a restless night. So, rather than going for that bright colour paint why not consider going for more of dark green. A rich shade of green can often make your bedroom look much more elegant; it can instantly lift the room and make it feel much cosier.
If you would like to add a touch of colour and vibrancy to your bedroom, you could consider playing around with a combination of colours. Add a range of bold colours to your bedroom by picking a variety of colours. A great combination to consider is yellows and pinks. Against a white background, it gives your home a summery feel all year round.
Different shades of pink, a lighter shade of pink can make your bedroom look delicate and sophisticated. If you go for more of a nude it doesn't look too girly instead looks more modern. With fresh white furniture, your bedroom could seem as though you spent a considerable amount of money on it.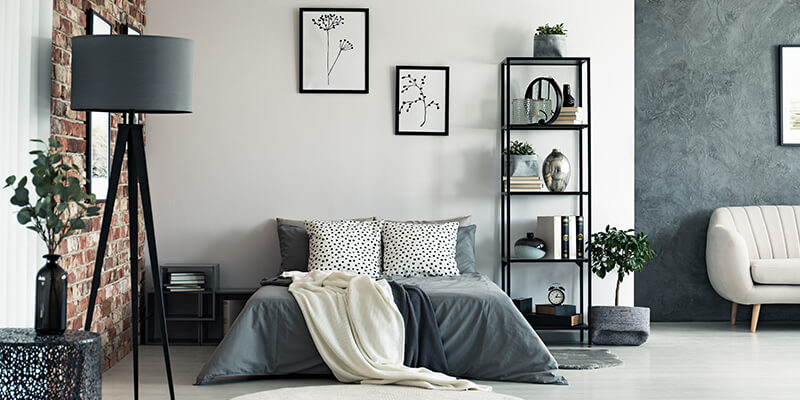 Living room
As one of the most used rooms in your home by not only your family but those who come to visit, this will be the one place you want your design ideas to pop and flourish.
Why not consider a colour you would not initially think of using, you obviously still need to love it. But the use of an outrageous colour such as emerald green is one of those shades that might come as a shock to your guests but gives your living room an edge. With a collection of artwork and darker toned furnishings, you can give your living room an impressive, vibrant look.
Alternatively, you could opt for more of a sweet sugary shade such as a duck egg blue or pale pink. When using these colours, you could also look at introducing an accent colour on one of the walls in the living room. When it comes to using lighter colours we always recommend using a matt emulsion paint instead of a gloss finish as you will be able to achieve more of a velvety look on your walls, which is ideal for your living space.
Dining room
When it comes to your dining room, you need to ensure your dining room looks perfect for breakfast. Mauve is one of those tones that looks perfect that warms up the room instantly. Pair it with various textures and additional purple tones, to give your dining room a relaxed vibe.
Paint one of the larger pieces of furniture in your home a signature colour to give your dining room a pop. Grey tones work exceptionally well in this scenario if you have a large cabinet which holds all your glassware it can create a fantastic accent in the room.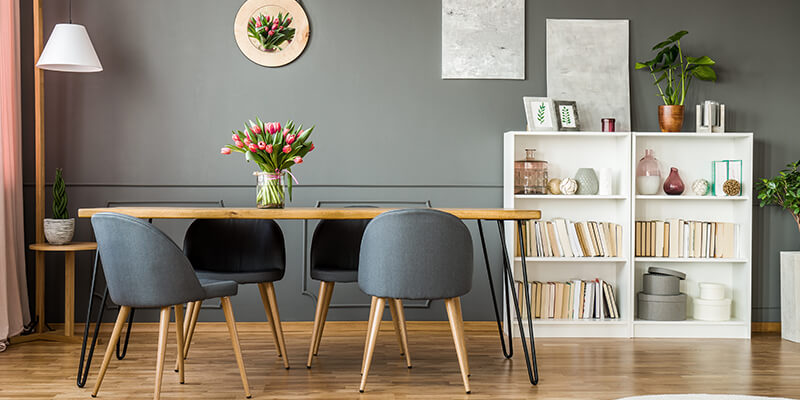 Paints
Choosing the right paint for your home can be a little tricky, especially when it comes to a complete redesign. Do not be afraid to use colours that you would not initially think of using. The great thing about paint is that if you do not like it you can always paint straight over it with another colour.