Garage doors go through their fair share of wear and tear – whether it may be deterioration due to exposure to adverse weather conditions or dents and scratches caused by family members. While the garage door may not be the most important home renovation that comes to mind, it is vital to keep in mind that they play a crucial role in forming the exterior of your home. Although the garden may be immaculate with pristine brickwork, a scruffy garage door will most definitely dampen the aesthetics.
A fantastic way to transform the appearance of your property's exterior, without having to invest in an entirely new door is to utilise your creativity and spray paint the surface. With this in mind, we have devised a full guide on spray painting your garage door.
Tips For Spray Painting Your Garage Door
If you're not the most advanced 'DIYer' then the thought of tackling the task of spray painting your garage door may seem a little daunting. However, the process actually couldn't be more straightforward. Through taking the time to prepare the surface adequately and perhaps even give yourself a few trial runs, you'll pick up all skills required to guarantee spraying success in no time!
What Spray Paint Types Are There?
Before you can go ahead and begin the spraying process, it is imperative to familiarise yourself with the different spray paint variations available. Each type has its own perks and drawbacks, which means that it is likely to take a little additional research to determine what paint is best suited to your requirements. Below is just some ideas for inspiration:
Dulux Aerosols: It is more than likely that you have heard of and perhaps used Dulux paints in the past. The brand is known internationally for its plethora of domestic and commercial paint shades. Dulux aerosols are essentially spray paints that have been colour matched to a shade available from Dulux, making them incredibly popular amongst homeowners.
RAL Colour: Spray paints that fall under the RAL colour category mean that they have been created using the RAL colour matching system. The colour matching system includes over 200 different shades; all of which are available in either a matte or gloss finish depending on the customer's requirements.
Pantone Colour: If you would like your spray paint to perfectly match the existing shade of your garage door, then opting for a Pantone colour would be the best route. Pantone is widely used when completing correction or repair projects as the finish will fit seamlessly with the remainder of the paintwork. All Pantone spray paints are custom-made.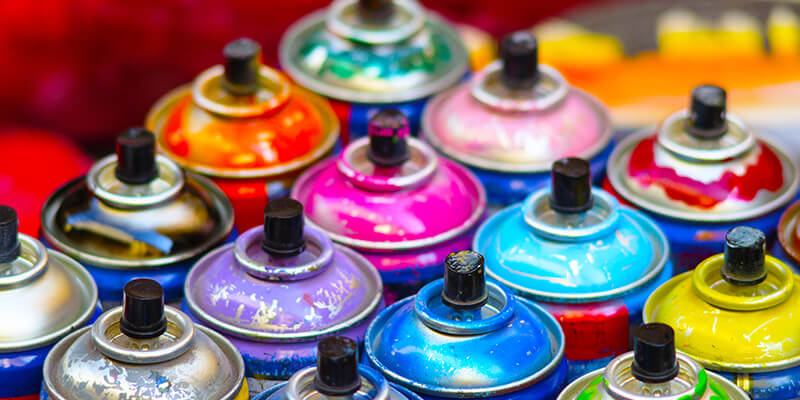 What Materials Can I Spray?
Depending on your property, there are many different materials that your garage door may be made from. The materials that can be transformed through the use of spray paint include the following:
Steel
Aluminium
Wood
Copper
Vinyl
What Will I Need To Spray?
There are a number of essential tools that you will need to ensure that you can successfully spray paint your garage door with ease. To give you an easy-to-follow checklist, we have listed each below:
Personal Protective Clothing
Masking Tape
Newspaper, Canvas Cloth and/or Plastic Sheeting
Paint Scraper
Wire Brush
Water and TSP
Spray Paint Primer
Spray Paint Cans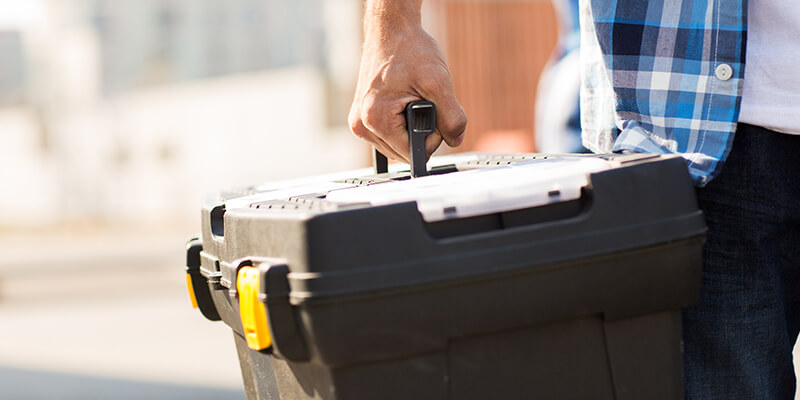 1. Preparation – Sprayer, Surroundings and Surface
Not only is it vitally important to ensure that your surface is prepared, but also you, as the sprayer, along with the surroundings of the garage door. Due to this, we have split the preparation process into three categories, sprayer, surroundings and surface.
Sprayer
While you do not have to be a professional to spray paint, you must ensure that you wear personal protective clothing to ensure that you do not risk exposure. Spray paint is filled with many chemicals and toxin fumes, which means that you must take precautions to avoid irritation or inhalation. Always wear trousers and a long sleeved top when spraying as this will stop skin irritation. Remember that paint can stain, so always wear old clothing. It is also vital to wear a protective face mask and gloves; these can both be purchased from Protec Direct.
Surroundings
It would prove extremely tricky to detach the garage door to spray, which means that the surface will need to be sprayed while attached to the walls. To avoid the paint from ruining the surrounding surfaces, place old newspaper around the door and secure in place with masking tape. If you are worried about getting paint on the floor, we recommend laying an old sheet or picking up a cheap canvas cloth. You may even want to consider placing plastic sheeting over any plants if they are nearby to the garage door.
Surface
Now its time to get the garage door ready for spraying. Begin by making sure that any old paint is removed using a paint scraper; this is likely to be a tedious task, but you must create a smooth surface as you cannot respray over old paint. If any patches of colour are proving to be particularly stubborn, a wire brush can be used.
Once the paint has been removed, the door must be cleaned. Failing to clean the surface risks dirt, dust and grime getting trapped under the fresh layer of paint, creating an uneven, textured finish. Aim to clean the surface using a combination of one gallon of water with half a cup of TSP. TSP, otherwise known as trisodium phosphate, dulls the existing finish to improve paint adhesion.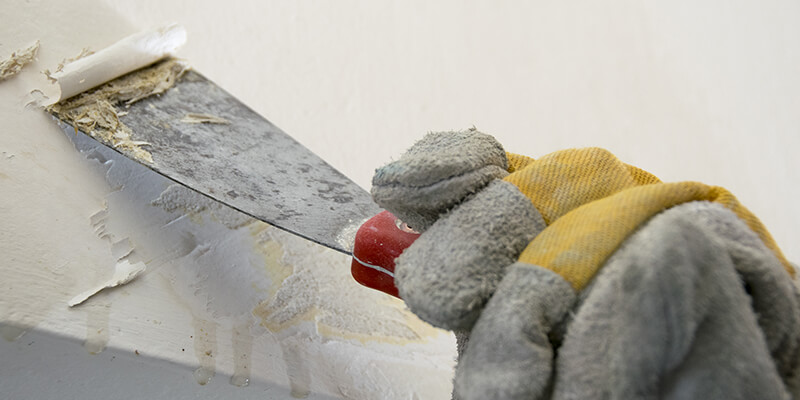 2. Priming The Surface
Applying a primer prior to spraying, is a critical step in the process regardless of the material or object-type in question. Primer helps to create an adhesive layer over the surface in which the paint can then stick to for years to come. Failing to prime risks paint peeling, blistering or flaking. It is also a great way of smoothing the surface for a better paint finish.
The primer you use will be based on the material of your garage door. Every material has its own specific primer, which includes tailored ingredients to maximise effectiveness. Always read the instructions on the primer before application as drying times and the number of layers required differs. Ensure that each layer is thoroughly dry before re-application.
3. Safe Spraying Techniques
Particularly if it is your first time spraying, spend some time practising on some newspaper or scrap materials before delving straight into the project. It is likely to take a few trials to nail an even, consistent spray, so give yourself plenty of practice time.
Always ensure that you are standing at least 10 inches away from the garage door as spraying too close will cause the paint to become super thick and patchy. Start spraying on the surrounding protective newspaper or cloth to get a comfortable pressure on the trigger and then move into the door, spraying horizontally in straight lines.
As long as you allow plenty of drying time in between, you can do as many layers of paint as you see fit.
As Good As New!
It's as easy as that! In just a few steps, you can completely transform the appearance of your garage door, making it look as good as new. While it may take a little additional research, in the beginning, to find the correct spray paint type and materials, the results will most definitely be worth the wait. If you're not too sure on what colour you would like to paint your garage door, take a look at Pinterest for hundreds of ideas for inspiration!