With interior design constantly evolving, the desire to give our furniture a makeover is all the more tempting. New trends and innovative products can easily make our existing furniture pieces look outdated and unattractive, so knowing how to repurpose furniture is important. Being a super effective and budget-friendly method of improving the appearance and functionality of your furniture, you can completely transform your home with a little creativity and some DIY.
The ultimate guide on how to repurpose furniture
Repurposing furniture has a whole host of benefits, which is why so many people are digging out their Pantone colour spray paint and other essential DIY tools instead of window shopping for new furnishings. Through repurposing, you can easily combine vintage with modern to create something entirely unique and give your home a statement piece of furniture. As well as being very budget-friendly, repurposing is a great opportunity to bring out your inner interior designer and get creative. There are endless possibilities when it comes to repurposing furniture, some of our favourites include turning an old bookcase into a sandbox, making a sewing table into a party cooler and drinks table and transforming an old dresser into a comfy bench. As you can see, you can be extremely imaginative when you are repurposing. All you need to do is take inspiration from the materials around you can create one of a kind furniture pieces. The key to repurposing is to have an open mind and experiment as much as possible – you will be surprised at how stunning the results can be!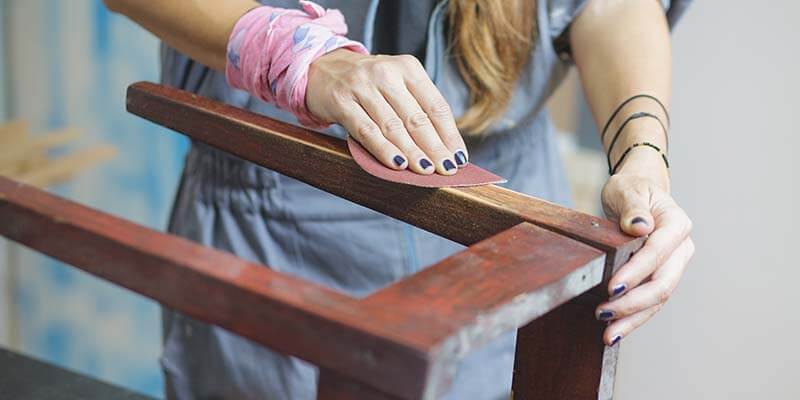 Transform an old door into a headboard
Whether you have renovated your home to accommodate for open plan living, or simply replaced your doors with new ones, before throwing your old doors away, consider how you can transform them. A headboard is a luxurious feature of any bedroom, and many people have discovered that an old door has the potential to be an impressive headboard. You can start creating this perfect addition to your bedroom by firstly finding a solid wood door that is ideally a few inches taller than your bed is wide. Using a door with a design element such as panelling would also be beneficial as it adds extra decorative detail, making it more visually appealing. If your door happens to be too long for your bed, you will need to trim it down with a power saw. Once your door is the correct size, you then need to cover any holes with wood filler, sand it down with sandpaper and then wipe any excess debris away with a damp cloth. When the surface is no longer damp, coat the soon-to-be headboard with a primer and let it dry.
Now, its time for some fun as you can paint the door in any way you like. You can opt for one solid block colour, paint creative designs or use several colours to make the panelling stand out. We highly recommend using our British Standard colours or RAL colour aerosol sprays for this step as the extensive colour range promises to either perfectly match or complement your existing colour scheme. Remember, you may need to spray several coats to get the results you are after, so be patient and let the paint work its magic. Once you are happy with how the headboard looks and paint is completely dry, it's time to hang it on your wall – ensuring at least half of it is visible above your pillows. Once you are happy with the positioning of the headboard and it is securely fixed to the wall, you can now marvel at your creation and enjoy the character it brings to your bedroom.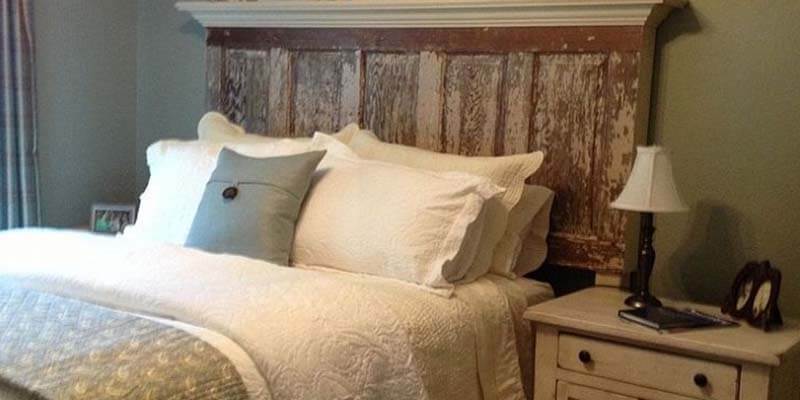 Photo credit: Pinterest
Use vintage suitcases as a nightstand
Add retro flair and innovative storage to your home with a quirky suitcase nightstand. All you need for this repurposing project is an old, hard-sided suitcase, and an unsued side table (roughly the same size as the base of the case) If the suitcase has an interesting aesthetic that works well in your room, you may want to leave it in its original condition. You may even want the nightstand to look as vintage as the suitcase. If this is the case, you can simply use some sandpaper to sand down the legs and any other visible details to make it appear more distressed. If you have several vintage suitcases lying around, you can ditch the table altogether and pile them on top of each other to create a quaint focal point.
Alternatively, you could paint the suitcase to make it appear more polished and modern.
Swap your cabinet door for a coat rack
This simple repurposing endeavour requires little DIY knowledge or expertise, making it ideal for beginners who are not well accustomed to transforming furniture. Firstly, you need to find an appropriately sized cabinet that will accommodate the amount of hanging space you need. Once you have found the perfect cabinet, you should start by painting it whatever colour you desire. It is likely that the actual cabinet will be covered the majority of the time by various coats and jackets, so we wouldn't recommend wasting your valuable time by painting intricate designs. Instead, a few coats of solid colour will be more than enough to make your cabinet look like an attractive coat rack. When the paint is dry, it's then time to attach your chosen coat hooks. If you have purchased a rail with serval hooks, you can place this directly onto the cabinet using drills and screws to secure it into place. If you have opted for single hooks, you will need to measure the cabinet and place them strategically so they have equal space between them. If you are satisfied with how the coat rack looks, all that is left to do is hang it in a convenient place.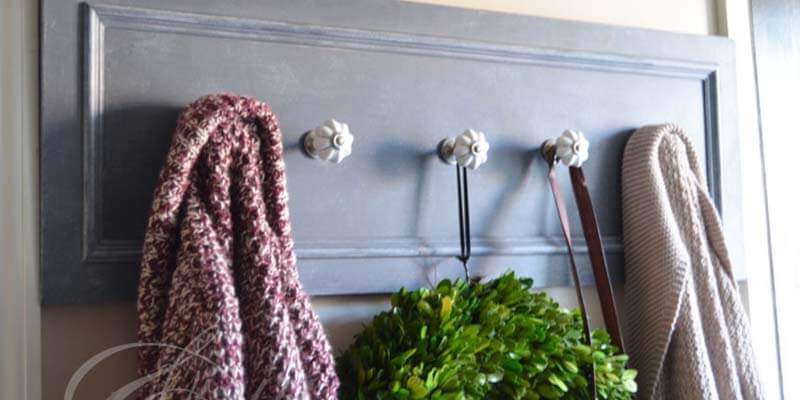 Photo credit: Create and Babble
Saving the planet one furniture piece at a time
Although repurposing furniture adds character to your home and allows you to create unique, decorative features, it is also an excellent way to do your bit for the environment. Reusing old furniture is extremely more eco-friendly than buying new pieces all together, so we recommend repurposing whenever possible. If the feel-good factor of repurposing has made you want to pursue a more environmentally conscious lifestyle, take a look at Good Energy's article, which gives you the ultimate 20 step guide to eco-friendly living.