Have you ever wandered along a beachfront on holiday or explored a busy city and come across a world of amazing graffiti?
There is something somewhat magical about the hidden treasures you spot on your travels. Art surrounds us every day and graffiti in particular, has a hint of mystery which allows you to create your own impression and story behind the masterpiece. With the unlikely possibility of an artist's tag or an explanation of the message the artist was hoping to convey, graffiti is an exciting genre of art which brings out the creativity in every passerby.
Some of the most mesmerising graffiti can be found across the globe in even the most unlikely of locations. Every country and city has its own twist on graffiti art, so to give you just a small insight into some of the wonderful creations you may be able to spot, we've devised a guide to the best graffiti around the world.
Where Is The Best Graffiti?
Street art has become an enormous part of city culture in the past couple of years with the likes of Banksy bringing a range of ethnicities and social classes together. What was once seen as an act of vandalism, is now classed as a conscious engaging piece of art.
With the warmer months eagerly approaching, we have taken the time to go through the fantastic pieces of art around the world. If you're stopping off in any of the countries mentioned, we highly recommend taking a look and appreciating the stunning pieces of art you may find around each city. It could even inspire you to customise your own creativity and bring your vision to life!
New York, USA
First thing's first, we thought it would be rude not to start with the beloved 'Big Apple', exhibiting some of the world's finest art pieces. Walking through Queens will showcase New York as the city where graffiti was born. There is a vast range of different styles, colours and interpretations that can be constructed from each piece of unique graffiti. Every artist has their own story which they convey through their technicolour glory.
When wandering through the busy streets of NYC, you may recognise many art-filled walls which have starred in some of the most popular movies, programmes and even documentaries. If you're lucky enough to have a trip to the Big Apple planned this year or are a street art enthusiast, we recommend taking a look HypeBeast's article titled NYC Street Art Worthy Of A Day Trip – we can guarantee you will love the vibrant creations!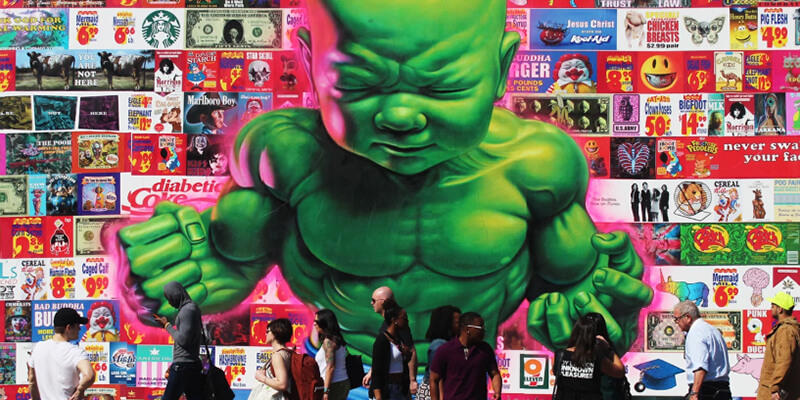 Photo credit to HypeBeast.
Melbourne, Australia
Melbourne is a city that is continually growing and that also goes for its graffiti scene. Previously you would not have seen much graffiti around the city; however, in the past decade, there has been an influx in the amount of street art lining the city. Graffiti art has exploded throughout Melbourne, embracing colours and different art forms. The city now holds its own annual stencil festival which is great to go and see.
For those visiting or living in Melbourne, we highly recommend going to see ACDC lane if you haven't already. Although the name does give away the theme of the creations, there is some breathtaking street art of band members and emblems you will come across! Once you've finished exploring the world-famous lane, you can stop off for some delicious street food washed down with themed cocktails!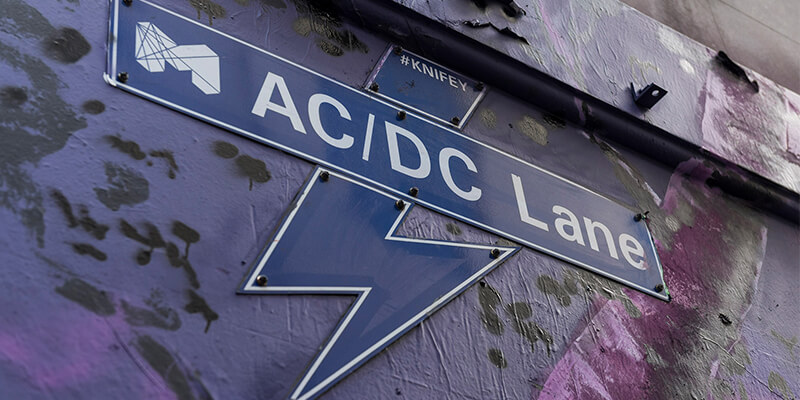 Photo credit to Visit Victoria.
London, England
London is one of the most fantastic venues for those with a passion for street art. While we may be a little bias as it is our much-loved capital city, no one can deny that it holds a never-ending supply of stunning pieces of eye-catching graffiti work!
As the home of the world-famous street artist Banksy, London has gone down in history across the globe as beginning the evolution of graffiti art. Although Banksy chooses to remain anonymous and the British public still has no information on his true identity, London holds masses of his work, wall displays and capitulation paintwork. Banksy now holds exhibitions around the world in cities such as Milan, Moscow, Toronto, Berlin and many more!
Due to the growing popularity of Banksy's work, there are now a wide variety of artists based in London including Kind Robbo, Ben Slow, Adam Neate and Slinkachu. The great thing about London is that you can admire a tonne of some of the most innovative street art the capital has to offer through taking a free tour by foot!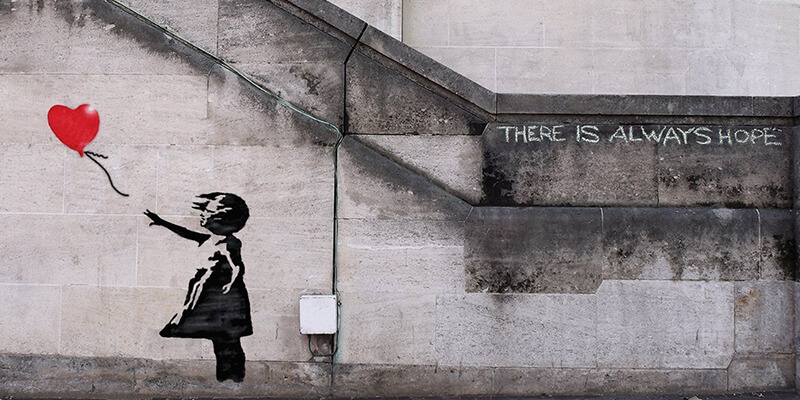 Photo credit to Collater.
Berlin, Germany
Berlin is a gorgeous city in itself with a lot of history to tell. If you are ever going for a trip and fancy something different for a few hours, you should take a look at some of the fantastic street art the city has to offer.
Although often unrecognised for their fantastic skill in street art, the talented artists of Berlin promote self-expression through their graffiti. Similarly to London, there are many different tours you can take around the city to experience just a snippet of Berlin's street art. One of the first things you will notice when taking a tour is the signatures. In the German City of Berlin, the artist is just as famous as the art; it has some of the best artists creating some of the most magnificent pieces of art.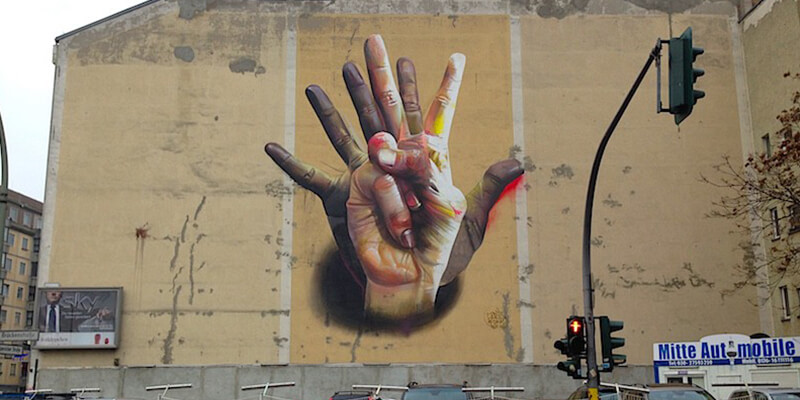 Photo credit to Awesome Berlin.
Granada, Spain
Just like Berlin, Granada, Spain tends to be less widely known for its street art. It is, however, known for the Moroccan style of architecture.
Street art in Granada began to grow in popularity in the early '90s, with a considerable portion of the work carried out by the creative El Nino de las Pinturas. El Nino de las Pinturas produces captivating work based on the themes of childhood and adolescence. Basing his work on the template of a human figure, he adds layers of plastic paint to create texture and fill his neighbourhood with art, each highlighting different facial expressions and feelings of those going through trickier stages of their life.
Lots of Granada's mesmerising graffiti can be spotted through a trip down the streets leading from the river and Alhambra. If you would like more information on the artwork in Granada, we recommend giving Migrating Miss' article a read on Graffiti in Granada: The Backstreet Art Gallery of Spain.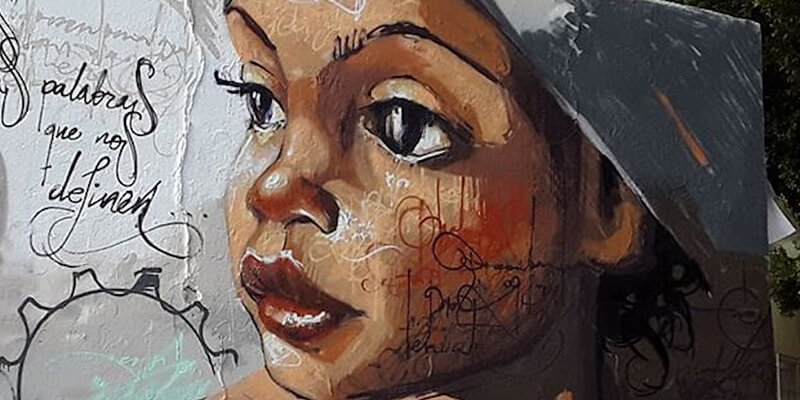 Photo credit to El Nino de las Pinturas.
Rio de Janeiro, Brazil
Brazil is a vast growing city that is well known for its favelas, also known as the urban areas located within or on the outskirts of the area. However, it is one of the biggest cities with a range of diversity. Back in 2009, Brazilians prompted the government to decriminalise street art, meaning only artists who did not get consent from the property owner could have legal action taken against them.
Some of the most amazing street art spots can be found in Rio de Janeiro, which is home to the world's largest mural graffiti in the world. The 560 feet long creation has been given the title by Guinness World Record back in 2016 and was named the legacy of the 2016 Rio Olympic Games. Completed by the world famous graffiti artist, Eduardo Kobra, the street art took Kobra two months working 12 hours a day to complete. Kobra worked endlessly to ensure that the completion of his record-breaking mural would coincide with the opening ceremony of the Olympic Games.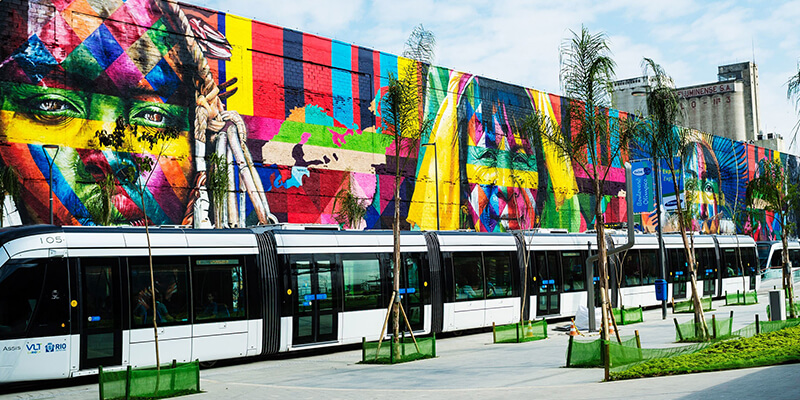 Photo credit to Wired.
San Juan, Puerto Rico
In 2010, San Juan held its first street art festival, which they had hoped to turn the city into a major arts destination. Unlike some of the other destinations we have mentioned throughout this article, San Juan street art is very different in comparison. Rather than a range of street art, artists showcase murals that cover buildings with historical and contemporary issues. Many pieces of the street art you can experience today have strong connotations of political problems the people of Puerto Rico have encountered.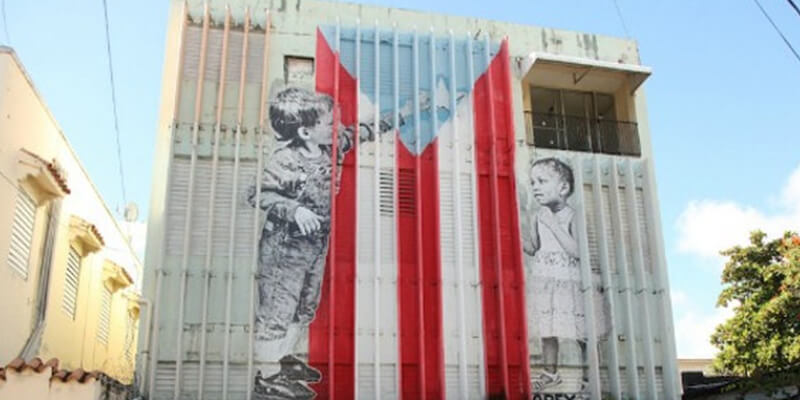 Photo credit to AFAR.
Bogotà, Colombia
Unfortunately back in 2010, a teenage street artist was fatally shot. After an array of protests, the city of Bogata changed street art laws and decriminalised graffiti. Once laws had changed, the city has seen an influx of elaborate murals which have bloomed and flourished.
Bogotà, the capital of Colombia has been named the country's home of graffiti with hundreds of budding artists doing their bit to stand out from the crowd. Stinkfish, in particular, has become one of the most sought-after artists in the world after being named the best Colombian graffiti artist. He maintains an ongoing theme throughout his vibrant work, focusing on recreating photos of himself that he takes with people while travelling around the world and transforming them into his signature yellow-faced portraits.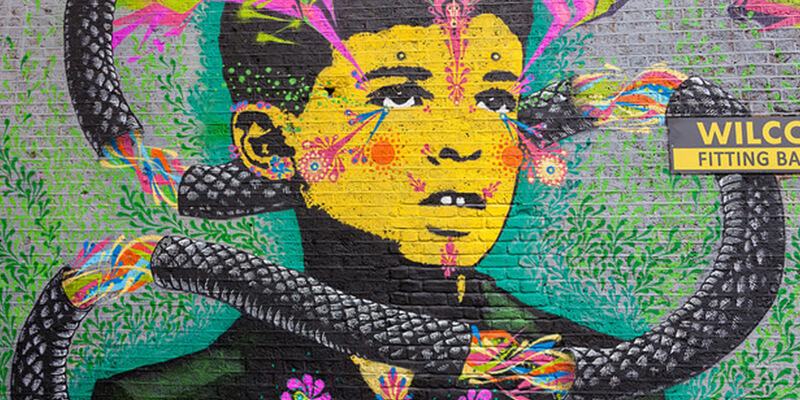 Photo credit to Hooked Blog.
Visit Some Of The Graffiti Capitals Of The World!
If you are lucky enough to have the opportunity to travel the world or even spend a few nights in one of the gorgeous cities mentioned in this article, we cannot recommend taking the time to experience its unique street art enough! While you may still have a slight view that graffiti is vandalism, you will soon see that they are actually the most magnificent pieces of art. Many tell stories old and new, some can even provide more insight into the historical events which took place in each city – this is why many cities around the world have made the act of street art a legal action.
If you're thinking of doing any street art at home or want to replicate any of the street art mentioned in a bedroom or as a statement wall, we recommend using British standard spray paints to give you the best colour and precision!
We hope that you loved the street art mentioned we much as we do, if so, why not share the stunning creations with your friends and family on social media?