Spray paints can be used for a multitude of different things, from creating art to revamping old furniture. Over the past couple of years it has become a big thing, for people to now use vehicle spray paints to help improve the overall look of their vehicle, change different panel to a contrasting colour, or to give their vehicle a little something different. Spray paints are a great way to modify, update or fix something on your car. Here we tell you why people use vehicle spray paints.
What are vehicle spray paints?
Vehicle spray paints are much like normal spray paint but will not wash away when cleaning or washing chemicals are applied. There are a number of colour options for you to choose from and if you can't find the colour you are looking for more often then not most aerosols companies will provide colour matching services.
Spray paints work in a number of different ways and can help you improve the appearance of your vehicle whether that's for yourself or if you were going to sell the vehicle. Many people tend to book themselves into garages or companies that will provide them with a complete respray of their vehicle which can be a pricey option in comparison to doing it yourself. Something which has recently taken the spray painting scene by storm is paintwork modifications. Some people choose to paint certain sections of their car a different colour and car companies are now also choosing to do the same. For example, Citreon brought out a car a couple of years ago which had a complete contrasting roof and wing mirrors.
Choosing the right spray paint for your car!
Before you consider using any paint on your car, you should always consider whether you have the right spray paint along with any other products you may need to assist you in the painting process. A car spray paint primer is one of the best places for you to have a look, a primer will be extremely beneficial to your spray painting project and we highly recommend having one, as it will mean the spray paint is more likely to adhere to the surface of your vehicle. When it comes to looking for the right primer you will need to look at ones that are best suited to your car make and model. If you are a little unsure on the type of materials the vehicle is made from, you can take a look in the manufacturer's guide, however, if you no longer have this you can find most information on the internet.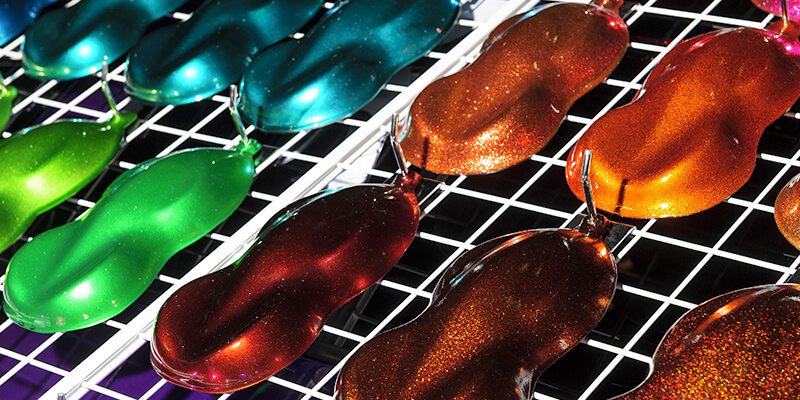 What primers to look for
A self-etch primer from Frost is excellent for vehicles that have bare steel and aluminium surfaces as it uses an acid substance to adhere to the surface of the car. Epoxy primer is great if you want to prevent any corrosion to your vehicle, it works on metal and fibreglass surfaces. Alternatively before applying a RAL colour aerosols you can apply DC Paint Solutions Primer Aerosols as it will help smooth out any imperfections granted you have sanded the body properly.
Choosing a finish
There are two different types of finishes you can have for vehicle spray paints, gloss or matt. Over the past couple of years, it has become more apparent matt vehicles are on trend, the only downfall with a matt based paint is they are more prone to scratches. However, if you are happy to maintain it, it does give the car an exquisite finish.
A gloss is what we all tend to go for and is often what you already have on your vehicle. It makes the colour of the car look more vibrant and is more likely to glisten and shine in daylight. We have also found that gloss paints are so much easier to clean and maintain, as dirt and grime are more likely to slip off the surface in comparison to a matte surface.
Tips for spray painting your car
First things first you are going to want to set up an area in which you are going to spray your vehicle. We recommend if you are thinking about spray painting your vehicle you do it in the summer months as the weather will be warmer and less likely to rain. It will also give you sufficient drying time as the air tends to stay fresher for longer and there is minimal exposure to moisture.
When it comes to setting up the area in which you are going to carry out your spray painting project, there are a few things you need to do beforehand. If you are painting outside, you may want to cover anything of value that may be within the vicinity. If there is a slight bit of wind, as you go to spray the paint the wind can take the particles and place them on your belongings. This very rarely happens, but it is always better to be safe than sorry.
Garages can be a little tricky to paint in, so if you are going to be painting the vehicle then make sure you have enough space. You will also need to ensure that the room or space you are using is well ventilated. Spray paints to release solvent vapours when in use which can be harmful to the human body if inhaled, so if you can either keep the windows open or get yourself a fan.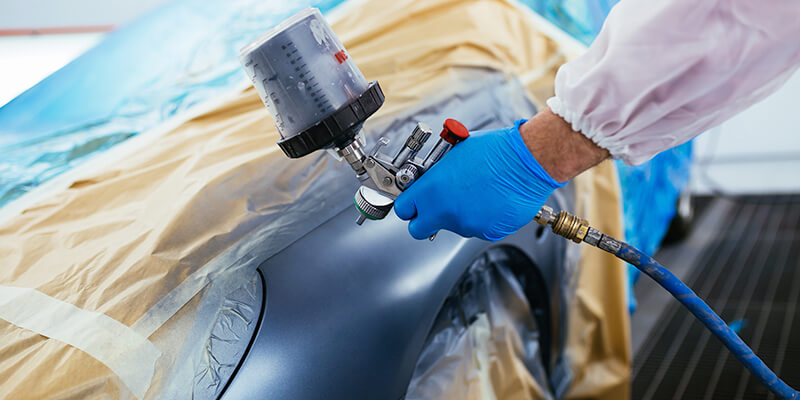 Safety gear
Make sure that you always have the right safety equipment and clothing to carry out your spray painting project. Ensure all eyes, mouth and nose are covered at all time as you could be at risk of inhaling the paint vapours which can be damaging to the body. For more information on the clothing and safety equipment, you should be using we highly recommend taking a read of What you need to know about spray paint safety.
Preparing the vehicle
To prepare the vehicle, you will first need to sand the body of the car down or the spot in which you wish to touch up. We recommend using aluminium oxide abrasive paper which you can get from ToolStation, you should make sure that you take it right down to bare metal so the paint will adhere effectively and make sure there are no lumps or bumps.
When it comes to spraying the primer, we always recommend holding it around 25cm away from the vehicle as this will allow you to achieve an even spray of the car. You can also do this a couple of times to ensure the car has been covered all over giving it roughly around 15 minutes between each coat. Before you think about painting the rest of the vehicle, you need to allow approximately around 24 hours for the primer to sufficiently dry.
How to spray paint
Before you start spraying, you need to give the aerosols a vigorous shake to ensure that the paint has been mixed thoroughly within the can. We always recommend applying a number of coats as the first couple may not be to your desired colour. Much like primer leave each coat around 15 minutes before you spray another one and shake the can before each use as the paint can settle in the can.
You will then need to apply an spray can gloss lacquer to finish it off. It will also enclose the paint and give it the ultimate gloss coverage if you would like a matt you can go for an matt lacquer spray paint.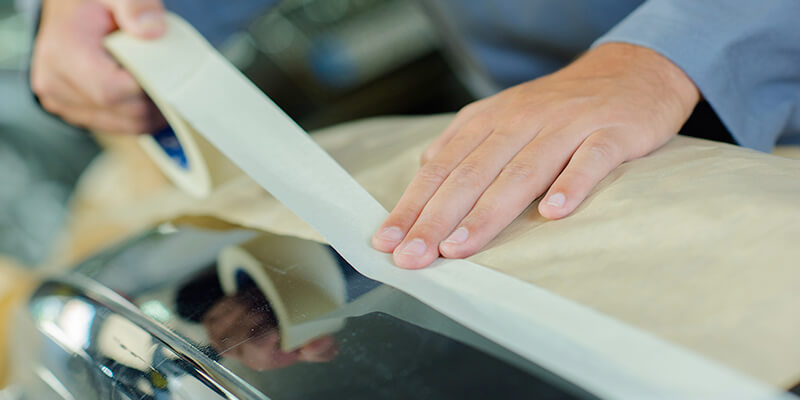 Summary
Here at DC Paint Solutions we are always open to people asking questions so please don't hesitate to get in touch. We also have a number of other articles that tell you how to use spray paints and the safety gear you will need to get the job done.
Make sure that when you do go to use your spray cans, primers or various other aerosols you are always using the right safety equipment along with following all of our tips. Ventilation is key when it comes to spray painting, as many people do not realise how harmful the solvent vapours can be if consumed in large quantities.
Using spray paints to improve the look of your car's body is a fantastic way to give it a change or add a bit of vibrancy. One thing we always say is don't be afraid to experiment with colours and have fun doing it. At the end of the day, if the colour doesn't look right, you can just spray it with another spray paint. By following each step on our how to spray a car guide, you should be able to achieve the perfect spray colour.
We would love to see how your car has turned out, so feel free to send them over to us on our email [email protected] or you can share all of your images with us over on our Facebook page.