To create the best, high-quality creations at home, you must perfectly colour-match your paint for a professional finish. At DC Paint Solutions, we provide an expert colour-matching service which can be used on all aerosol types we stock. Discover more about this service and the terms you will likely hear us mention along the way!
A DC Paint Solutions Guide To Matching Paint
As experts in all things paint, we regularly work closely with our customers to bring their visions to life, whether it be creating a replica model from their favourite film or repairing old furniture. In our guide, we have outlined not only how we will colour-match your paint but also tips to ensure a perfect finish.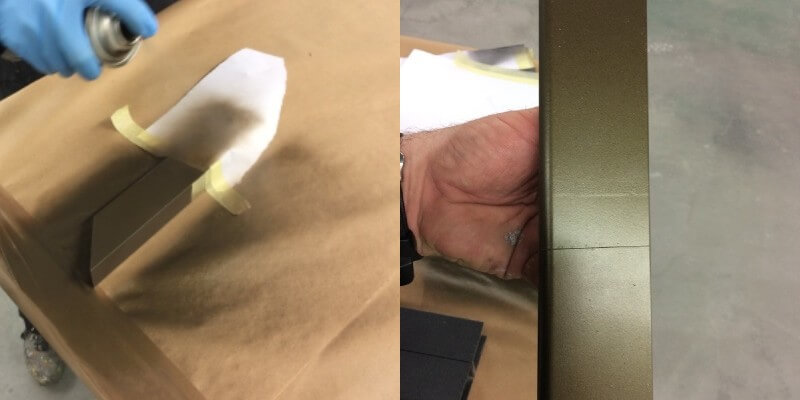 Matching colours is probably one of the most expensive and time-consuming exercises we take on.
Firstly when matching solvent-based products, you can rest assured that nothing can be taken for granted. When formulating your paint solution, you need to add a binder, tinters, thinner and a hardener if you are spraying a 2 pack of paint. It's useful to understand that the more solvent chemical products you mix, the more this will affect things like shade, colour, drying times and the finish itself.
Everything has an impact during the drying process, the thinners in the paint and the strength and viscosity of the tinters and the binders themselves.
To understand this better, let's break down some of the jargon:
What Is A Binder, Thinner And Tinter?
Binders are the agent that bonds all of the other chemical solvent products together, consider the glue agent that binds the product together.
Thinner is a solvent-based product that will reduce the viscosity of the paint; in short, it waters down the solution to make it thin enough to spray out, and it also dries the paint out.
Tinters are also solvent-based and are the colours that are mixed to make up your paint formulation. Tinters originally come in a powder form and are eventually mixed with solvents to become a tinting solution.
What Are Solid Colours?
A solid colour is the same colour all the way through, i.e. a solid red like a postbox or a solid yellow like a banana. The hardest colour to match is actually purple, as this can have any other colour in the tinter's spectrum, and coloured paints (metallic or otherwise) are often referred to as a base coat.
What Are Metallic Colours?
Metallic paint is commonly comprised of small aluminium particles, which provide the shiny metallic lustre effect. They are usually mixed with absorption pigments (somewhat transparent to improve the gloss and depth effect). In later years and with better paint technology, the metallic fleck in paint is more commonly replaced with plastic chips than metal.
Metallic paint is much harder to match than solid paint as the extra element of the metallic fleck can affect the colour in the initial match but will also be lighter when in the light and a darker, richer colour in low light. The metallic fleck can come in a range of sizes and even colours!
What Is A Flip Paint?
Flip colour paints are an effect paint which changes colour when light hits different contours, which is generally applied over a deep ground coat to create the flip effect.
This phenomenon is entirely due to the alignment or orientation of the metallic flake pigment, which has multiple coloured contours of fleck. When metallic coatings are applied by spray, the flake pigment aligns itself in a particular direction across the surface.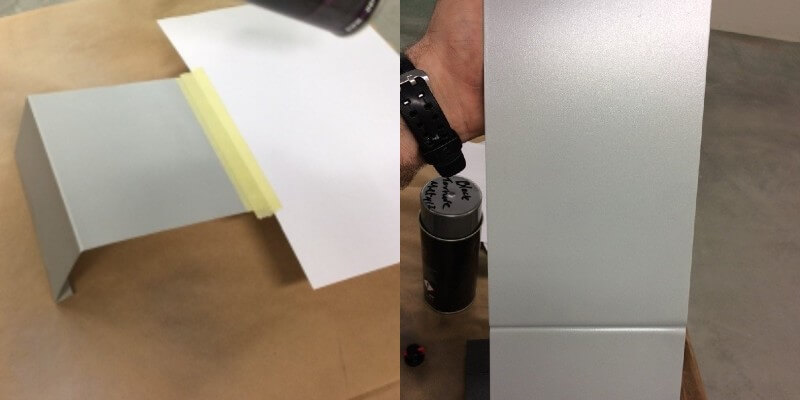 What Are Anodic Paints?
Anodised paints simulate the same finish as an anodic-coated substrate. An anodic coating is a type of coating material that utilises anodising to provide increased thickness, colour and protection to aluminium or any type of substrate.
This coating consists of an oxide film that is created on metal through electrolysis, with the metal acting as an anode. In terms of paint, a fine micro fleck is incorporated in the silver or clear solvent solution; this is then mixed with the tinter to make up the final paint.
What Are Primers?
Primer is a ground coat used to help treat a surface before applying a base coat of colour and is formulated to ensure maximum adhesion. Better paint adhesion means your paint job lasts longer with less likelihood of chipping and stripping away.
Likewise, primers also act as a sealer, which barrier the existing substrate, which is effective on porous surfaces that would otherwise absorb the first few coats of paint.
What Are Lacquers?
Often referred to as a top coat, a paint lacquer is a clear coating that, when dried, produces a solid, durable finish which can add depth to the colour and protection for the base coat, which is designed to be chip-resistant, waterproof, and breathable. Lacquers can be applied to a variety of surfaces, such as wood and metal, and they come in a range of colours as well as clear finishes.
The Difference Between A 2K Paint And A 1K Paint
The primary difference is a 2K or 2 pack lacquer or paint has a hardening agent, which makes it much more durable and weather resistant than a 1K paint. 1K paints and lacquers are used on more common items from picture frames and doors, but some tactile objects, such as garden furniture, require tougher solutions.
2K paints are commonly used on vehicles, hand railings and children's parks. 2K paints in a solvent form commonly have isocyanates which, when breathed in, become carcinogenic. This must be treated very seriously, with an appropriate mask being worn at all times. Drying times for 2 pack paint are also generally longer than 1K paint.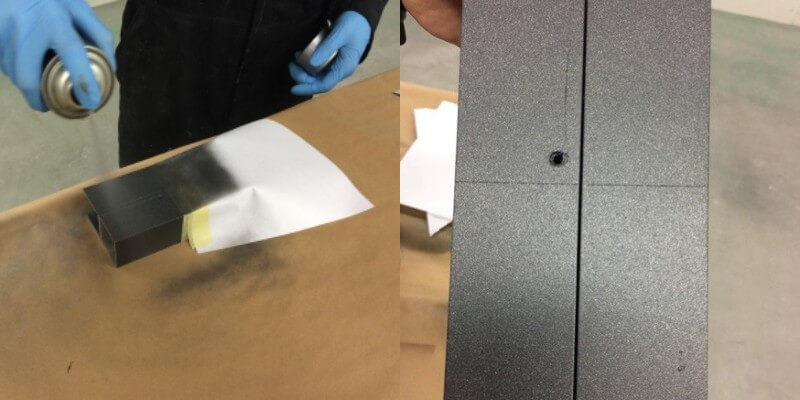 From time to time, we are requested to match colours sent in from our clients for onsite touch-up paints or for special projects. Paint matching is a time-consuming exercise when balancing colour and shade, not to mention when you add metallics and textures, but it is also costly as you have to waste paint to test the colours.
Sure, you can use a spectrometer, and we have one, but we have never found them reliable unless you have paid a lot of money for one. The naked eye is still the preferred tool, hands down, as you can interpret how the paint will act and how it will dry. Paint matching is as much an art form as the spraying itself. To be successful with the matches, attention to detail is key, and anything can affect the outcome, from the paint distribution methods to the thinner and drying of the paint.
How We Colour Match Our Paint
When matching colour, the first thing we do is match the paint in a wet form. This way, we have a starting point, and we can get the colour pretty close to what we see as the sample chips.
Once we are satisfied with the colour match, we will let the paint fully cure so we can see what the paint will look like once it has dried. The reason we let it dry is once the paint has cured naturally at room temperature, it can still change shade, or even more aggressive pigments can come through at the end.
We then have to put the formulation into an aerosol can to test the final spray out.
We have provided a multitude of pictures for you to peruse, from onsite panel matching and metallics to solid colours.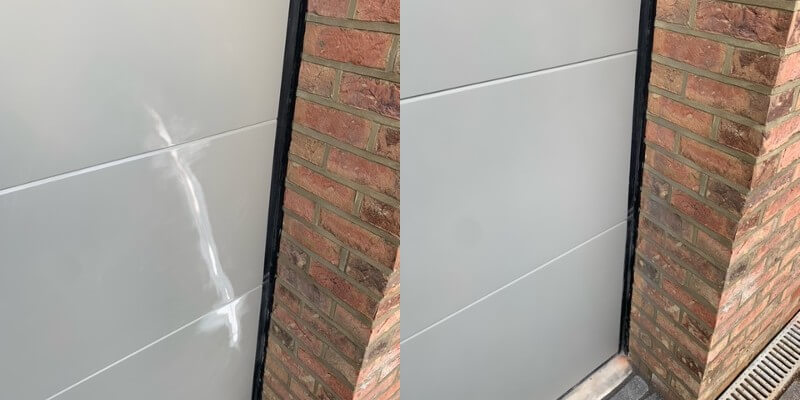 Get Started On Your Paint Matching
We supply these kinds of custom paints and finishes on a daily basis to a wide range of clients, from staff in the construction industry, the glass industry, facades, designers, textiles, automotive, painters and decorators, film industry special effects teams, and tradesmen. There are very few industries we haven't catered to at one time or another! Take a look at our previous article for more information about us and what we can do for you!
We welcome all challenges and look forward to supplying your paint needs, whether they be from a gun, a touch-up paint, to spraying an aerosol can. For any enquiries or quotations on our bespoke paint, please feel free to call us or email us for a quotation!
Below are a series of colour-matched photos for your perusal. If you are looking at any items without a merging colour line or a sample to hold against it, we have done our job.
Colour Matching Examples