Don't be daunted by small household spray projects as even a standard household chair is an incredibly easy piece of furniture to renovate. With the use of sandpaper and a touch of spray paint, an upcycled chair project can be completed in merely a matter of hours.
A Guide On How To Spray Paint A Table & Chair Set
This following how-to guide can be applied to any wooden or plastic chair project. By changing the colour and or shade of your project, a dining room table or chair set can be transformed, looking good as new, injecting new life into your home. Upcycling furniture is also ideal for saving money, eliminating the need to buy replacement while also making for a fun project to keep you occupied.
To prepare for the project, you will need to pick up the following:
Sandpaper (Mixed Grades)
Standard Thinner & Degreaser
Newspaper and/or dust sheets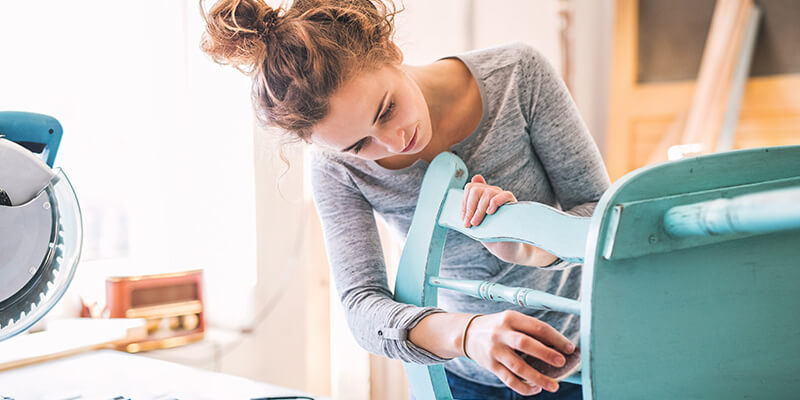 Chair & Table Spray Painting Instructions
Follow the instructions below to transform a chair and table set using spray paint:
Step One:
Start the project in a well-ventilated area. Place your item of furniture on top of newspaper or a dust sheet. Mask off any areas not to be painted and separate areas if relevant – for instance if you want a two-tone effect on the base and the back support. Protect the surrounding area with additional dust sheets or newspaper.
Step Two:
Ensure surfaces to be painted are free from loose paint, rust, wax, oil and grease. Key (lightly sand to a rough substrate) any previously painted surfaces such as wood and metal so that the new primer/paint can adhere to. When you are ready to paint, apply the high build primer and set for around 40 minutes to cure. Once the paint has cured you can sand further should you wish to smooth out the surface.
Step Three:
Using your selected topcoat colour, hold the can approximately 30cm from the surface of the chair and spray left to right in steady passes (releasing the spray nozzle as you leave the substrate and depressing the nozzle before you hit the substrate on the return pass), half overlapping with each stroke. For best results, while spraying keep the can the same distance from the surface and in motion. Apply several light coats 20 minutes apart until you are happy with the colour.
Step Four:
After leaving the topcoat to cure for 2 hours, you can apply a final couple of topcoats (clear coat lacquer). Leave the final project overnight to ensure the paint is thoroughly dry before moving it back into the house to reduce the paint smell odour (if this is of concern you can include a deodoriser in addition when you order your paint).