Decorating your child's room can be a difficult task as you want it to be a design that will last they a few years. You don't want to choose something that's a fad, and they will want to change constantly because let's face it, it wastes time and money. Here we tell you the best children bedroom designs and how to achieve them.
What makes a great childrens bedroom designs?
One of the first things you are going to want to think about is what colour. Sometimes if you are expecting and don't know the gender of your baby, it can be hard to choose the colour. The last thing you want to do is get it wrong. However, we recommend going for a monochrome scheme. This will allow you to add prints and accessories which will enable you to feel proud to bring your baby home to. This contemporary style is excellent for when your child is young, but you can also transition into a more female or male room as the child grows older. We also think this is an excellent option if you have a girl and a boy sharing the room.
Another great aspect of choosing neutral colours is that you can add bold statement pieces such as artwork, bedding and accessories. A neat idea we have recently come across is lego storage boxes which add a playful twist to a neutral bedroom. You can find a range of colours at A Place For Everything.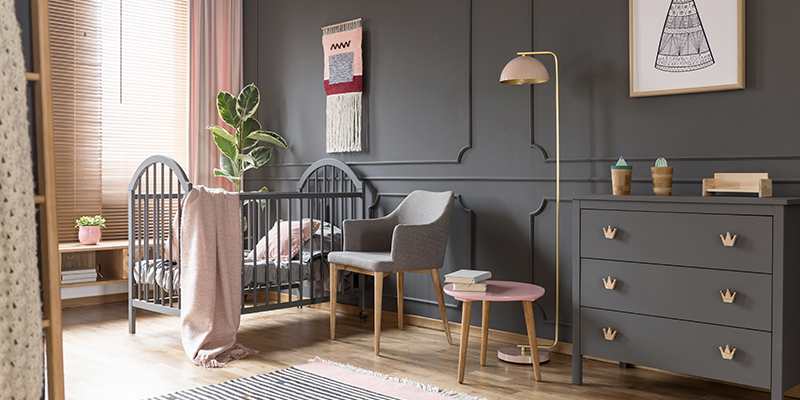 Themes
As children begin to grow, they start to get a mind of their own, meaning they like certain things and want their bedrooms a certain way. While many parents don't always want to give their children free rain in their rooms, you can discuss with them what kind of theme they wish to implement.
A great way to allow your children to add their own personal touches is by allowing wall art; this can mean choosing a design which can be spray painted or using wall stickers. Spray painting is a great option as you can design it however you wish with a range of colours and finishes available to you. Pantone colour spray paint is perfect for giving your bedroom the ultimate vibrancy it needs. Wall stickers are also a great idea, you can get a range of styles, colours and fonts on Not on the Highstreet.
You can set the tone for the rest of the room by choosing the wall art. First, it will give you the opportunity to bring a range of colours in. It will also help with choosing other aspects of the room such as bed frames, bed sheets, accessories and much more.
Creativity
When a child is young there, imagination can take them to far away places where they can enjoy their own company and the company of others. So making their bedroom the perfect place to do this means you won't have the kids bugging you every few minutes for something to do. Get inventive by bringing different decor into your child's room. Bright colours and bold structures is a great way of doing this; you can have creative places for your kids to hand their clothes. Making funky clothes hooks allows them to be creative as well as enjoying the finished product. If they have any plastic animal toys, you can spray paints the all one colour and nail to the wall allowing them to hand bunting or their house keys from them.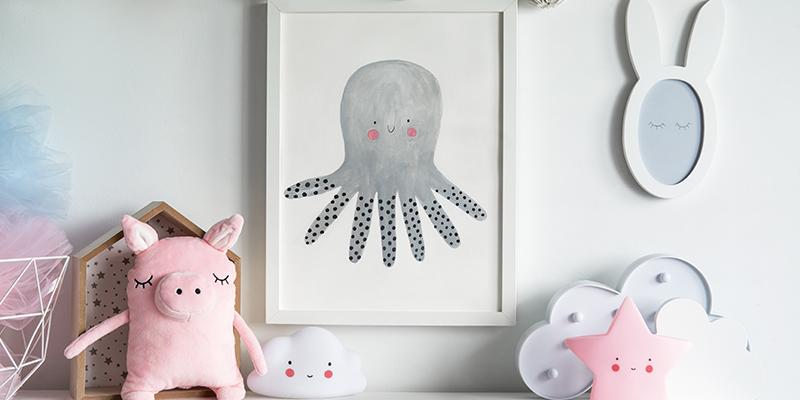 Create an exhibition space on their wall, a great way of doing this is by having a chalkboard as the length of one of the walls. This will allow them to draw and colour as much as they want but it not is a permanent fixture in their rooms. Another creative project you could encourage is to make the most of their artistic flair; you can get them to paint on canvas to add a touch of colour and individuality to their rooms.
Wall letters are a great way to add a personal touch to your child's room; kids often love to see their names spelt out as it gives them a sense of ownership. Large wooden wall letters allow you to give your child a starting point for some pretty cool designs.
Storage
We previously mentioned bringing lego storage boxes into your child's room, but storage is a great way for allowing your child to have a playroom as well as a bedroom. There is no doubt that your child can make a lot of mess as soon as all the toys come out to play. So it is vital to have great storage solutions in any child's bedroom.
There are so many innovative and neat storage designs that can bring a playful feel to any child's room. You can have wooden storage boxes, bags and even hanging baskets which allow easy access for your child. We believe having great storage solutions for your children gives them the ability to clean up after themselves rather than you having to do it all yourself.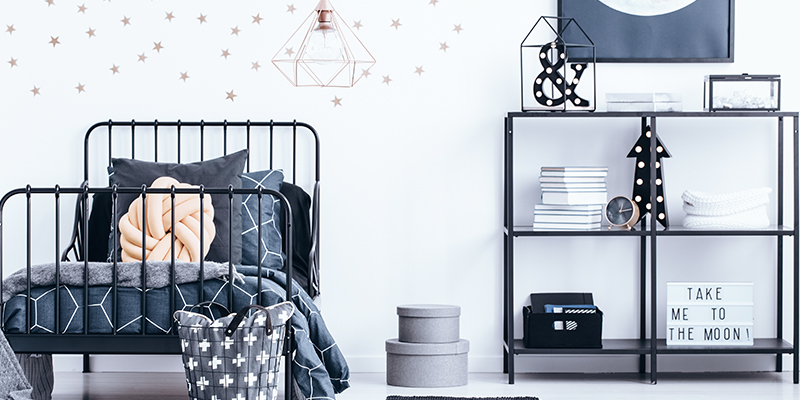 Summary
Creating a child's room can be a fun and new experience for any parent. It can be a tricky task when you're not aware of what gender you could be expecting however by choosing the right colours you can get it just right. Going neutral allows you to add colours and textures as the child grows with age. Transitioning a neutral room is far easier than choosing a bold colour. It also means as they get older they can choose the different colours that can go into the room without having to completely repaint items.
Wall art is a great way of allowing your child to add a touch of their own personality. It can give them free rain but not enough that their room is a mismatch of colours. Spray painting can be a fun experience for both you and your children. Storage is also a great way of adding colour and fun to your child's bedroom.